The world's

most efficient

LNG engine
Obtain negligible methane slip emissions with the MAN B&W ME-GI engine
The MAN B&W ME-GI two-stroke dual-fuel engine is one of the industry's most trusted platforms for delivering great operational efficiency and negligible methane slip emissions for large merchant marine vessels.
Based on more than a decade of experience, the engine has been refined to offer a simplified design, exceptionally low methane slip emissions, as well as upgrades for key components. This will in turn improve reliability, while providing a large degree of flexibility for meeting emissions regulations.
The world's most efficient LNG engine
Perfect for new builds or retrofits, the MAN B&W ME-GI minimizes operating costs by delivering the same industry-leading thermal efficiency no matter which fuel you are using. This is a huge advantage, especially for container vessels in a market where fuel prices are fluctuating. The ME-GI can also be fueled with bio-methane as well as synthetic natural gas, which provide a clear route towards greenhouse gas reductions.
Statements and latest news
Some words about the high reliability of the ME-GI engine
Some words from our dual-fuel customers:
Cylinder condition and ist relevance for reliability


Some words from our dual-fuel customers:
Experiences from our first ME-GI customer Teekay


Update yourself on the upgraded MAN B&W ME-GI engine
During a webinar session held in June 2020, you could get the latest design and service updates of the engine, as well as the novelties of the Mk.2 platform being presented by some of our MAN B&W engine experts.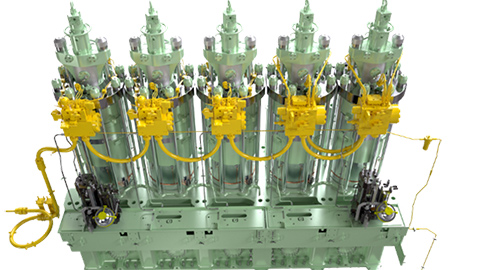 Proven two-stroke MAN B&W engine technology
Minimal environmental impact (Low GHG emissions by negligible methane slip and reduced CO2 emissions)
No need to compensate with liquid oil fuels in order to accommodate low methane number or high ambient temperatures
Flexible operation using fuel oil or LNG
Knocking is not an issue
Any fuel-oil/gas ratio can be burned
Supports WHR
Easy retrofit compared to Otto cycle engines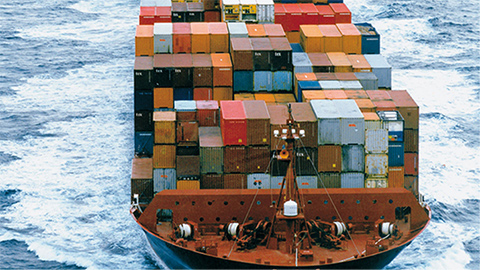 The ME-GI is built for low OPEX, delivering the same industry-leading thermal efficiency no matter which fuel you are using. This is a huge advantage in a market where fuel prices are fluctuating and LNG bunkering will become the norm. The auxiliary equipment costs have been reduced and the engine's installation is simplified. Furthermore, key components have been updated to improve performance and deliver a more environmentally friendly solution.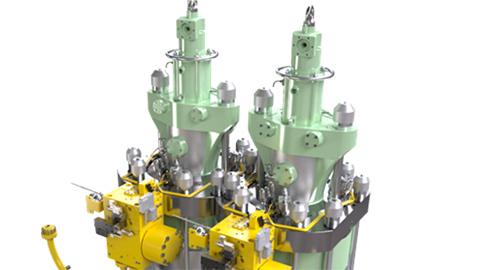 The MAN B&W ME-GI Mk. 2 incorporates a range of key component upgrades that improve reliability, maximize efficiency and lower OPEX, helping you to stay competitive in a challenging market.
Lowest gas consumption of any marine two-stroke engine
Simplified piping system provides a more compact solution with fewer components, and therefore lower maintenance costs
New gas block with an improved window valve enables cut-out of an individual cylinder operating on gas, while allowing continued operation on fuel oil
Updated pilot oil injection system enables the pilot oil energy fraction be lowered to just 1.5%
Optional compact pump vaporizer unit features embedded redundancy (3 x 50%) and integration with the ME-GI engine control system
guaranteed
methane slip with a tolerance of +/- 0.1g/kWh
More than
running hours on LNG alone
Next generation performance and efficiency
Explore your options
The new MAN B&W ME-GI Mk. 2 two-stroke dual-fuel engine is built to support your power needs today and for the future.
Contact our experts
Service solutions for optimum cost-efficiency
MAN PrimeServ offers advanced modernization solutions to optimize the reliability, availability, and economic efficiency of existing equipment. Furthermore, MAN's modernization and retrofit solutions are tailer-made to customers specific applications and machinery.
Go to MAN PrimeServ