Local projects at MAN Energy Solutions Pakistan
2920 MW Power Plant: HUBCO (NEL)

Customer:

The Hub Power Company Limited (HUBCO) is the

first and largest Independent Power Producer (IPP)

in the country with a combined installed power

generation capacity of 2920 MW.

The Company's wholly owned subsidiary, Narowal

Energy Limited (NEL) owns the 225MW Narowal

Power Plant, established in November 2015.

Application:

11 x MAN 18V 48/60B 18.9 MW

1 x 16.45 MW Steam Turbine

MAN's scope of work:

MAN Pakistan has signed a long term agreement

for engine maintenance and responsible for all

major maintenance at 6K intervals.
1.6 MW Steam Turbine for yarn fabric

Customer:

Fazal Cloth Mills Limited ("the Company") was

incorporated in Pakistan in 1966 as a public limited

company. The Company is engaged in

manufacturing and sale of yarn and fabric

Application:

1 x 1.6 MW Straight Condensing Steam Turbine

MAN' scope of work:

MAN Pakistan has signed a long term contract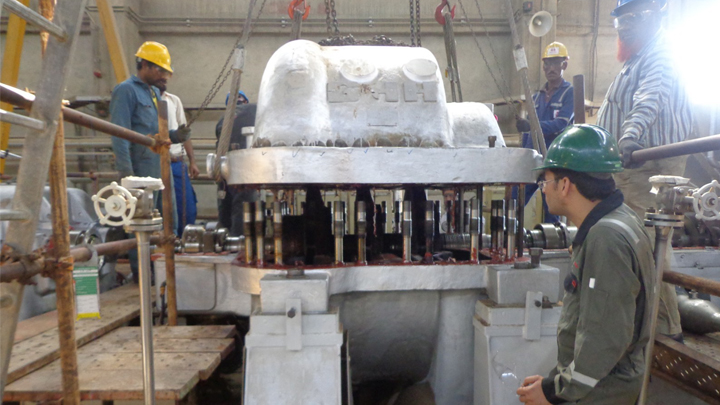 Spare parts and services for Karachi Port Turst
Karachi Port Trust (KPT) is a Pakistani federal government agency under the administrative control of the Secretary to the Government of Pakistan for Maritime Affairs that oversees the operations of the Port of Karachi in Karachi, Sindh, Pakistan.
The national flag carrier of Pakistan, trading under the name of Pakistan National Shipping Corporation (PNSC) is engaged in transportation of dry bulk and liquid cargoes globally since 1970's. PNSC is an autonomous corporation, which functions under the overall control of the Ministry of Maritime Affairs, Government of Pakistan. It manages a fleet of 11 ships, real estate and a repair workshop.
We are supporting KPT, PNSC and Pakistan Navy with supply of spare parts and services since 2010 for MAN B&W, Pielstick, Paxman, HS Engines.
Further information
Feel free to contact us any time if you want to know more about our workshops
Get in touch with us