From Deggendorf to the world: reactors, apparatus, and sustainable technologies
Reactors are, essentially, about the chemical and physical transformation of matter. More specifically, reactors synthesize or process chemicals. We engineer and manufacture reactors for the chemical industry and to support decarbonization technologies. We also design and produce the apparatus and components needed by the petrochemical sector and physical research facilities.
reactors installed worldwide
maximum weight of a DWE® reactor
All-round reactor services
from a single source
From feasibility studies to successful turnarounds, we offer a full-service approach. Our customers benefit from individually tailored reactor design and engineering based on your specific requirements. We support you over the entire product life with chemical and thermal process optimization, maintenance, and even shutdown planning.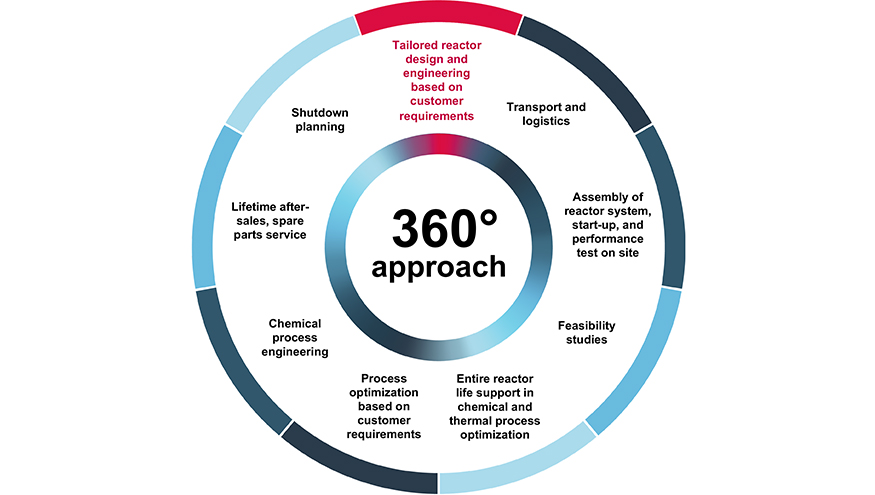 Power-to-X: producing green fuels and chemicals
MAN DWE® provides the key components for power-to-X plants. In the power-to-X process, first electricity is used to split water into hydrogen and oxygen, then carbon dioxide is added to the hydrogen in a methanation reactor, resulting in synthetic methane. Our reactors are also used to convert hydrogen into a carbon-neutral liquid fuel such as methanol, and to refine methanol into gasoline or kerosene. At MAN Energy Solutions we cover the entire value chain, producing hydrogen, converting it into other fuels and making the engines that run on those fuels.
Solutions for the chemical and petrochemical sectors
We engineer reactors for the chemical industry and apparatuses for the petrochemical industry.
Decades of experience and the know-how of our highly-qualified employees give us a leading position in the world market for these applications.

Resilient, reliable, and efficient
MAN DWE reactors are used to make compounds such as phthalic and maleic anhydride, methyl methacrylate, acrylic acid, and acrolein. Our tubular reactors are manufactured in a complex production process using high-grade materials such as carbon steel or vanadium-reinforced chrome steel. Special cladding made from materials such as zirconium add to the longevity and safety of the reactors. We offer salt-operated and water-/oil-/gas-cooled reactors incorporating up to 60,000 tubes, up to 10 meters in diameter and 1,800 tonnes in weight.
Learn more

For modern, efficient operations
We supply key components for virtually every application in the petrochemical industry and in refineries. Our turnaround (TAR) and shutdown engineering capabilities have been proven all over the world. We provide residue fluid catalytic cracking (RFCC) and fluid catalytic cracking (FCC) units. These comprise reactor and regenerator, pipework, pressure-retaining spare parts, internals such as combustor risers and other components such as orifice chambers.
Learn more
High-quality reactor solutions
Chemical reactors
We make chemical reactors to meet your individual requirements. Our salt-operated tubular reactors are ideally suited to synthesizing chemical feedstocks. Our water-, gas- and oil-cooled reactors are used for production of methanol, ethylene oxide/glycols, formaldehyde, and styrene, as well as in gas-to-liquid and power-to-X processes.
Learn more about chemical reactors
High-pressure vessels
We supply hydrocrackers, high-density polyethylene (HDPE) reactors and other specialist vessels made from high-grade materials. Our high-pressure vessels weigh up to 1,800 tonnes and feature weld overlays or are made from special materials with a wall thickness of up to 350 mm. Benefit from our experience and expertise for turnarounds or new installations.
We can design custom pressure equipment and work with special materials such as duplex, nickel-based alloys, zirconium, and high-temperature chromium steel.
Learn more about high-pressure vessels
RFCC/FCC components
We can provide whatever you need for your residue fluid catalytic cracking (RFCC) and fluid catalytic cracking (FCC) units. Including reactors and regenerators, pipework, pressure-retaining spare parts, internals such as combustor risers and other components such as orifice chambers.
Learn more about RFCC and FCC components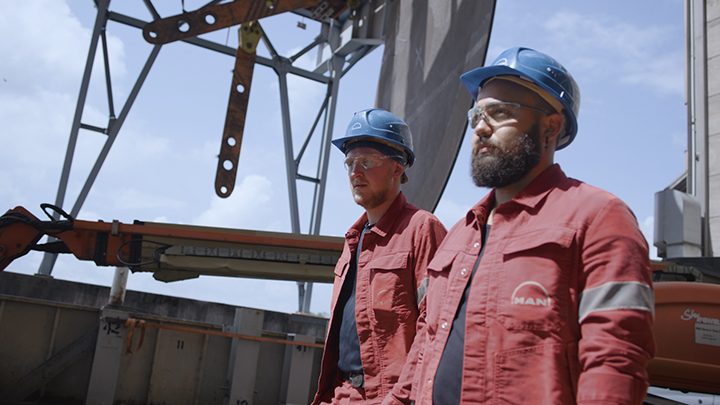 Custom solutions

The production of some chemicals calls for special materials and conditions. We work closely with our customers to create special reactors. Sometimes, specially secured reactors with a containment design are needed for health and safety reasons. We also develop pilot plants for new processes. Testing out new ideas is expensive and can be risky. We are specialized in designing reactors which are optimized for your requirements, making the process as safe, efficient, and cost-effective as it can be.
Learn more about special reactors
Let's talk about chemicals
Our experts know a lot about chemical engineering, and what they don't already know, they want to find out about. So if you have a question, we'll be happy to chat.
Contact us
History of Deggendorf site
Career and training offers
How to find us
MAN Energy Solutions Deggendorf
Werftstraße 17,
94469 Deggendorf
t +49991 3810