Premium-class reactors for the chemical and petrochemical industry
DWE®, a subsidiary of MAN Energy Solutions, manufactures tailor-made chemical reactors to meet your individual requirements. We offer salt-operated and water-/oil-/gas- operated reactors up to 10 meter in diameter and 1,800 t in weight as well as customized reactors.
DWE® chemical and
petrochemical
reactors
Salt-operated reactors
Fixed-bed tubular reactors for heterogeneously catalysed reactions.
Tubular reactors with up to 60,000 tubes
Custom-made
Multi-stage reactors, sector design, containment design
Temperature 300-550 °C
Total heat removal rate of up to 54 MW
Go to salt-operated reactors
Water-/gas-/oil-operated reactors
Process vessels in general, tubular reactors for fixed-bed gas phase and reactors in particular.
Process options

Radial and axial flow
Fixed and fluidized bed
Batch and continuous operation
Design options
High-grade materials such as carbon steel, nickel alloy, low- and high-allow steel including vanadium-reinforced chrome steel, zirconium and stainless steel
Multi-stage reactors
Up to 10 meter diameter, 1,800 t
Go to water-/gas-/oil-operated reactors
Special reactors
Reactors for special applications.
Multi-stage reactors,
Sector design for large reactor systems,
Containment design for extra safety
Reactors made from high-grade materials
Pilot plants
Go to special reactors
e-Methanol in focus
The climate crisis and tighter regulations are driving the search for reliable and economical alternatives to fossil fuels. E-methanol and its derivatives are clean and cost-effective liquid fuels which can be used as a marine, aviation, and road transport fuel with existing infrastructure. MAN Energy Solutions is unlocking the full potential of renewable energy by providing power-to-liquid (PtL) technology.
Reactors that work especially for you
We customize your DWE® reactor until it perfectly fits your requirements
If you are producing acrolein (AC), acrylic acid (AA), maleic anhydride (MA), phthalic anhydride (PA) and methyl methacrylate (MMA), our salt-operated reactors are perfect for you. Owing to their excellent process control, they also lend themselves to many more applications.
Our water-, gas- and oil-operated tubular reactors on the other hand are used for the production of ethylene oxide (EO), methanol (MeOH) and others, as well as for XTL (X-to- liquid, GTL) processes, coupled with the need to cut CO2 emissions. This kind of reactor is also used in the power-to-X (P2X / PTX) business area for the production of hydrogene, methane and SNG (synthetic natural gas).
We offer process development and testing in our pilot plants or in a pilot reactor built for you.
Should you have very particular safety, transport or other requirements, our special, custom-made reactors will be of interest.
All our top-quality reactors can be made from special high-grade materials if the process demands it. They have little downtime, have guaranteed spare parts for their long lifetime and reduce your CAPEX and OPEX. We also conduct feasibility and safety studies, carry out revamps or supply start-up services for our reactors systems among other things.
heavy
maximum weight of a DWE® reactor
Reactor system for the production of methyl methacrylate (MMA)
We delivered a customized reactor system, operated with heat transfer salt. The uniform temperature distribution ensures a safe process and high product purity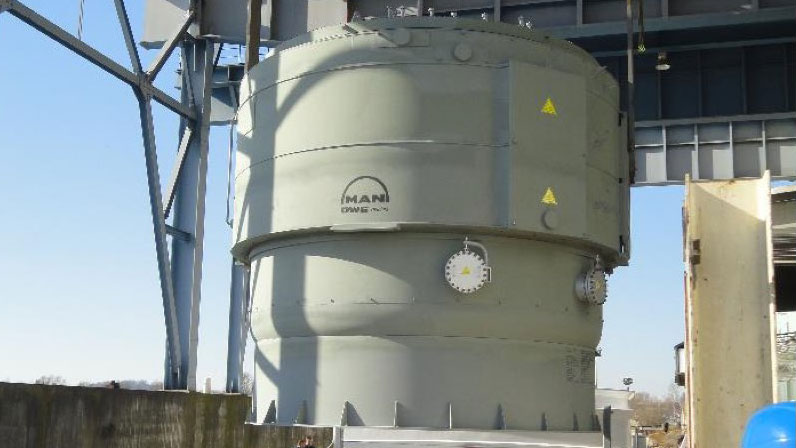 Country:
Saudi Arabia
Application:
MMA Reactor System® – methyl methacrylate
Project status:
Completed in 2014
Customer benefits:
High quality, long lifetime, on-time delivery
MAN's scope of work:

3x reactors with screwed heads,

First reactor with 37,650 tubes with intercooler, second and third reactors with 43,823 tubes (diameter of 10.5 m each, approx. weight per reactor 470 to)
DWE® reactor services
We want you to get the most out of your investment: Service-life-extending revamps and conversions are available for all assets in the DWE® reactors portfolio.
As a service customer, you benefit from the experience and innovation of designers, engineers and technicians who know your reactor – down to the last gasket. From design studies to after-sales service, as a reliable and competent partner, we accompany your reactor through all phases of its service life.
Contact our MAN Process Industry support team
Whichever reactor you are looking for, go to the industry leader for best results.
DWE® has delivered over 750 individual reactors to the chemical and petrochemical industries worldwide. Find out what we can do for your business.
Talk to our experts