Enabling a scalable energy transition
The MAN B&W ME-LGIM is a two-stroke, dual-fuel engine that can run on methanol as well as conventional fuels.
The engine provides an efficient, proven, and reliable solution, and plays an important role in the decarbonization of the maritime industry. Simple handling, storage, and bunkering of methanol, combined with relatively simple auxiliary systems and the potential to be carbon-neutral, makes it an attractive option for meeting decarbonization targets.
The first MAN B&W ME-LGIM engines came into service in 2016
running hours accumulated on methanol alone
Proven two-stroke methanol engine design
Available for newbuilds or for upgrading existing conventional fuel vessels, the engine represents a proven and refined engine design based on more than 120,000 running hours on methanol alone.
When fuelled by methanol, the MAN B&W ME-LGIM engine significantly reduces greenhouse gas emissions, particles, and SOx emissions. Methanol produced from renewable sources can provide carbon-neutral propulsion.
Thanks to an extensive existing ME-LGIM engine portfolio, our methanol solution caters to a wide range of vessel applications, including container vessels of all sizes, product tankers, VLCCs, numerous bulk carrier sizes, RoRos, and PCTCs.
The major appeal of methanol as an alternative fuel is that it can be stored as a liquid at ambient temperatures and pressures. While its production as a green fuel is still limited, its handling costs are low, reducing the complexity of storage and bunkering infrastructure at ports.
Recent methanol engine orders reflect a carbon-neutral approach from ship owners, since they will be fuelled by carbon-neutral green methanol whenever this is available at scale.
The engine works with the same high efficiency known from our existing conventional fuel engines. Switching between methanol and fuel oil is seamless and thereby supports reliable and continuous operation of the engine.
Explanatory video: methanol for maritime shipping
Methanol retrofits
At MAN PrimeServ, we are dedicated to retrofitting and upgrading your existing engines.
Go to MAN PrimeServ
The MAN B&W ME-LGIM provides up to 100 % carbon-neutral propulsion when fueled by green methanol
Two-stroke customer statements
Get first-hand info by two of our low-speed customers from Methanex NZ Ltd and Waterfront Shipping Canada about their experience with methanol as a marine fuel type and also about their experiences with MAN as prime mover for two-stroke methanol engines.
There are many advantages in powering a ship with methanol. Watch our two-stroke customer Marinvest Shipping AB and find out more about their experience with methanol as a marine fuel type, with MAN as a partner and also about the operation of vessels powered by B&W ME-LGIM engines.
| | |
| --- | --- |
| Customer: | A.P. Møller-Mærsk |
| Application: | 12 x 16,200 TEU container vessels |
| Shipyard country: | South Korea |
| Completion: | First vessel in service from Q1 2024 onwards |
| Fuel: | Methanol |
| MAN's work scope: | 12 x MAN B&W 8G95ME-C10.5-LGIM EGRTC |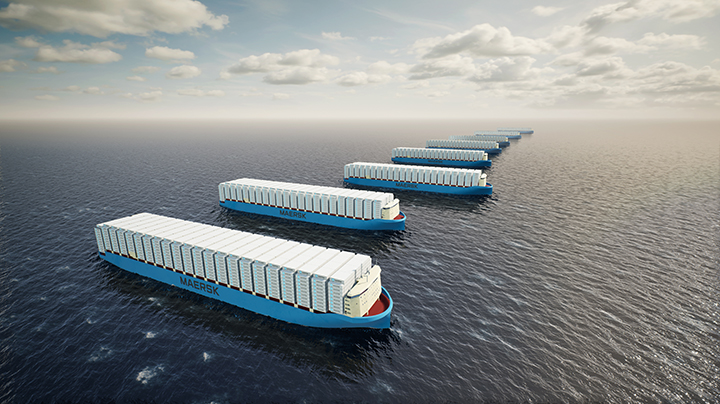 | | |
| --- | --- |
| Application: | Methanol carrier |
| Shipyard country: | South Korea |
| Fuel: | Methanol |
| MAN's work scope: | 1 x MAN B&W G50ME-C9.5-LGIM |
Methanol-fuelled engines 2022

Find out more about our offerings for our two-stroke methanol-burning MAN B&W ME-LGIM engines which have gained extensive service experience and already more than 110.000 dual-fuel running hours. We will touch upon the market interests in methanol from various segments, design improvements and will offer interesting insights into retrofit possibilities.

Go to recording

Methanol fuel use in shipping - fuel, regulation and retrofits

What will be the shipping fuel of the future? It's a challenging question, but also a crucial one.

Watch the recording of our latest four-stroke ExpertTalk and get further insights.
Monday, September 26, 2022

SMM agreement covers development of next-generation 'DFE+' decarbonisation solutions based on new MAN 49/60DF engine and ABB's Dynamic AC power distribution and control system

Thursday, September 22, 2022

Propulsion set-up delivers record-low fuel-consumption for Wider projects

Thursday, September 15, 2022

MAN PrimeServ service decisive factor for French Polynesian operation