The cost of change
Energy markets are facing dramatic changes. The need for decarbonization, increased competition and steadily growing demand, localized grids, aging infrastructure and strict regulations are all factors that impact your bottom line. Controlling your energy costs is key to keeping your competitive edge.
MAN Energy Solutions cost optimization – keep control of your bottom line
Embracing innovative technologies and an intelligent energy mix can do wonders for your operating expenditures. Invest in optimizing your operations – and be ready for the future.
Our versatile, highly efficient power plant solutions are designed to meet your requirements. We are committed to improving your operations on the best possible budget to ensure that they comply with increasingly strict environmental regulations. Cost-effective and reliable power generation depends on choosing the right technologies and solutions. You can trust us to look at all the angles.
total fuel efficiency for combined heat & power plants
lower LCOE achieved by combining genset-based power plants with BESS and PV
MAN Energy Solutions for energy cost optimization
Facing volatile fossil fuel costs and stricter environmental regulations, power producers are turning towards more renewable energy sources. But these require major investments and don't always achieve the desired levels of efficiency – or generate attractive returns. Hybrid power plants offer the best of both worlds, producing cleaner, more efficient power at lower costs.
Our hybrid power solutions combine renewable energy sources, thermal power generation and energy storage systems in a microgrid. Storing surplus power and using instant power top-ups from engine and turbine gensets fueled with gas, biofuels or even synthetic fuels can make wind and solar power systems more reliable and efficient, ensuring that valuable power doesn't go to waste.
How you benefit:
Reduced energy cost
Increased reliability
Increased fuel efficiency
Go to hybrid power plants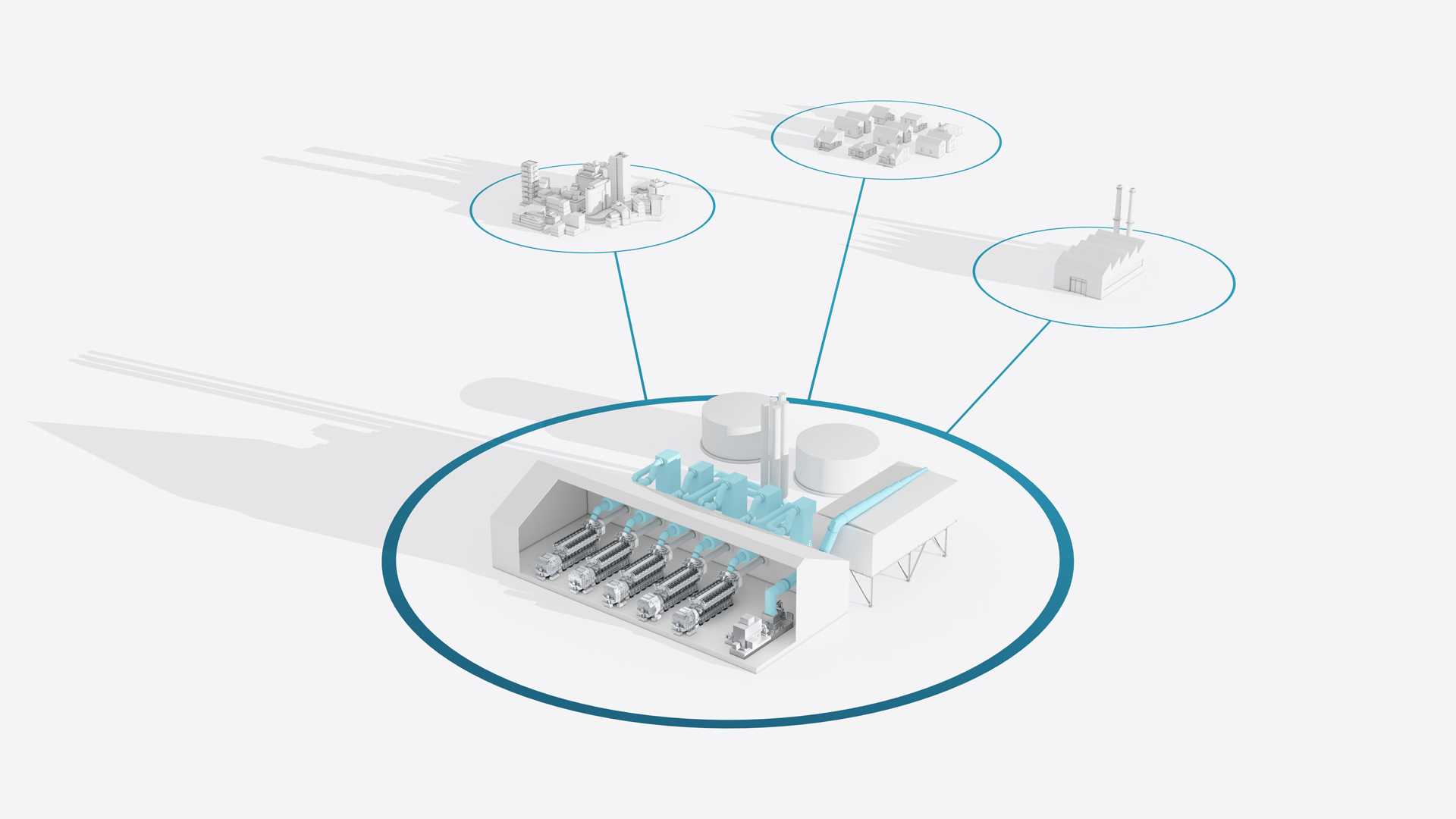 MAN Energy Solutions designs combined-cycle power plants that use the waste heat from the engine to produce steam. This steam is then expanded in a steam turbine to produce electrical energy. This combination of engine and steam turbine enhances the efficiency of a single solution. We are the only company on the market that designs and provides all of the key components needed – from engines to steam turbines.
How you benefit:
Reduced energy costs
Improved fuel efficiency
Single source for all equipment and services
Go to engine combined cycle
A good way of making power plants more cost-effective is to minimize energy loss and waste. International Energy Agency figures show that about two-thirds of the energy converted to produce electricity in traditional fossil-fueled power plants is simply lost as so-called "waste". Each year, about 65% of the total energy input has been lost by the time it reaches consumers.
Combined heat & power (CHP), or cogeneration/trigeneration, is the most efficient process for generating power and heat and/or cold from a single fuel source. MAN Energy Solutions designs CHP systems to meet the specific thermal and electrical load requirements of each facility, greatly enhancing its operational efficiency – with total plant efficiency levels capable of topping 90%.
How you benefit:
More cost-effective, efficient systems
Less energy wasted
Low CO2 emissions
Customized solutions to meet specific facility needs
Higher electrical output with the same fuel usage
Go to combined heat and power
MAN PrimeServ protects your energy assets from day one
Whether you feed energy into the grid or satisfy a localized demand, on land or at sea, our technicians provide what you need – where and when you need it, ensuring the availability, flexibility, and profitability of your plant.

How you benefit:
Fast, reliable and expert customer support 
Prompt delivery of OEM spare parts
Bespoke O&M contracts
Global service – 24 hours a day, 365 days a year
Go to MAN PrimeServ
Contact our MAN Energy & Storage support team
Take control of your energy costs and stay ahead of the competition
Whether you're looking to lower your energy costs with improvements to your current set-up or want a whole new solution, get in contact with our experts to see how we can help.
Talk to our experts