Development
& production Augsburg
The plant in Augsburg can look back over a long history. Founded in 1840, it was the birthplace of the diesel engine in 1897. Today it is the headquarters of MAN Energy Solutions. In addition to the development, production, licensing and sales of large-bore four-stroke diesel and gas engines as well as turbochargers, the Augsburg plant is also a center of the after-sales service brand MAN PrimeServ. Furthermore MAN Energy Solutions has a leading role as solution provider in the energy and shipping sector. Power plants and ships all over the world are powered by MAN engines.
Sustainable solutions made in Augsburg
MAN Energy Solutions' vision to become a sustainable solutions provider, is heavily driven and supported from the Augsburg plant. The site is MAN's development and production center for the important four-stroke gas engine technology. Furthermore, business development for the upcoming Power-to-X and hydrogen solutions is led from Augsburg. Together with its subsidiary H-TEC SYSTEMS, the company is developing electrolyzers and other technology for the production of green hydrogen.
Power-to-X
The rise of renewables is good for the planet. Converting renewable electricity into storable fuels spreads the benefit of carbon-neutral energy across sectors. The power-to-X process allows for just that. It is a transformation technology that converts electricity into carbon-neutral synthetic fuels, which can then be used in other sectors or be stored until needed.
Learn more
Shaping the future for hydrogen
We at MAN Energy Solutions acknowledge the power of H2 and with our solutions and services, we are covering all parts of the hydrogen economy today.
Learn more
tonnes weight of the MAN18V48/60, the heaviest four-stroke engine build in Augsburg
more than 260 years of engineering tradition
Technology and business activities in Augsburg
Additional services
More than 100 years casting experience
MAN Energy Solutions's foundry is one of the oldest workshops in the plant in Augsburg, Germany. It has been in operation since 1844 and offers experience and professional knowledge in the production of high-quality castings.
Your solution for modern heat treatment
MAN Energy Solutions' hardening shop at the Augsburg site offers many years of experience and top quality in the field of hardening and surface technology as well as solutions for innovative heat treatment processes.
Career and training offers
Foundation date of Augsburg site
Rebranding of MAN Diesel & Turbo to MAN Energy Solutions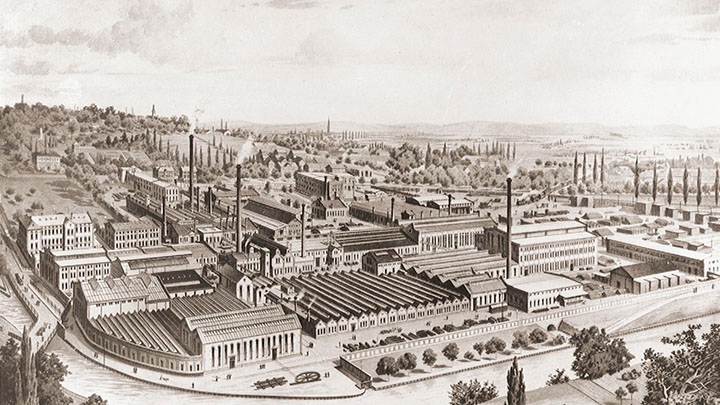 1840 - Works founded by Ludwig Sander
1897 - Manufacture of the world's first diesel engine
1898 - Merger of the Maschinenfabrik Augsburg A:G. and the Maschinenbau-Actien-Gesellschaft Nürnberg
1985 - Merger of M.A.N. and Burmeister & Wain to MAN B&W Diesel
2006 - Dual Fuel Technology: four-stroke engines that run on light and heavy fuel oil as well as on gas
2012 - MAN Diesel and MAN Turbo merge to become MAN Diesel & Turbo
2018 -
MAN Diesel & Turbo becomes MAN Energy Solutions