Your reliable partner

for CENTA

flexible couplings
MAN PrimeServ - Global Authorized Service Provider for the CENTA product line
Regal Rexnord | CENTA and MAN PrimeServ, two companies with long and rich histories in the marine and power industry, are partnering to improve the value delivered to customers in the industry. MAN PrimeServ is a global Authorized Service Provider for the CENTA product line, enhancing the competencies of the entire MAN PrimeServ service network as well as improving the service level toward our customers.
A flexible coupling is a mechanical element composed of rubber elements. It is installed on a 4-stroke engine and connects two shafts together to transmit torque while allowing for some degree of misalignment and angular movement. A flexible coupling additionally reduces the stress and wear on the shafts and other components in the system by dampening vibration.
Available in a variety of materials and configurations, CENTA couplings accommodate many different applications and industries. Size, geometry, and material characteristics are relevant for the transmission of the torque. The variation in operational conditions will inevitably affect elements during operations.
When to service CENTA flexible couplings?
Rubber is a natural material that hardens over time and loses its flexibility. For that reason, carrying out an annual inspection of the condition of the rubber is recommended by the OEM according to the following intervals:
after 1,000 operating hours
after 4,000 operating hours
Thereafter every 6,000 operating hours or annually (whichever is earlier)
The periodical inspection of the couplings, according to manufacturers' recommendations as stated above, is required by the relevant classification societies.After 10 years or 50,000 running hours, it is recommended that the rubber segment of the coupling is replaced.
Why service flexible couplings?
Risks of delayed servicing of CENTA couplings:
Exposure of the drive train and all connected system components to stresses beyond their limits
Premature wear and tear on components in the drive train
Failure of the bearings in driving and driven parts
In case of failure, the lead time for the rubber component replacement can be more than 8 weeks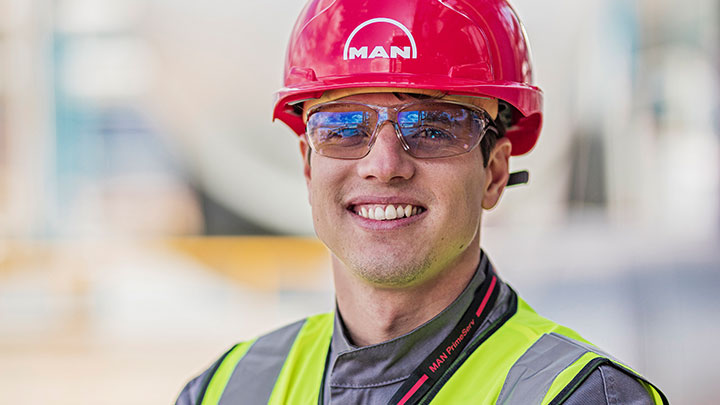 Our services:
Annual inspection of CENTA couplings product line
Rubber element replacement services and repairs for entire CENTA product line
Original spare part kits
Alignment checks, including the foundation of engine arrangement or propulsion line
Replacement of resilient mountings
All services are carried out by expert MAN engineers
Access the CENTA FAQ document
We have developed an FAQ document about CENTA flexible couplings. It holds valuable information regarding classification, documentation, inspection and replacement of components, maintenance, and operating conditions.
Download the latest CENTA service letter
The service life expectation of a couplings rubber element is approximately 10 years, depending on environmental circumstances and changes in alignment of the setup. In the service letter below we offer in-depth information regarding CENTA coupling inspection.
Why MAN PrimeServ?
A single global point of contact for the servicing of engines, flexible couplings, turbochargers, and other auxiliary equipment
Technical competence that allows for better troubleshooting and goes beyond looking at the coupling itself
Original equipment manufacturer (OEM) supply chain
MAN PrimeServ warranty. Terms and conditions apply
The inspection and replacement of a flexible coupling can be performed in the same service interval as the overhaul of an engine
Minimal flight and hotel costs for field engineers since our service centers offer total geographic coverage
service centers around the world
worldwide round-the-clock service
Find your nearest service center
In addition to CENTA flexible coupling, MAN PrimeServ provides servicing for your critical equipment and components in the engine room, regardless of OEM.
Are you in need of urgent servicing on your fleet or plant?
Call your nearest service center.
Contact our MAN PrimeServ experts

For non-urgent requests, don't hesitate to reach out. Our experts will happily provide advice and support. ​
PrimeServ Omnicare is a a one-stop service solution that provides complete support for all your equipment – engines and turbomachinery – regardless of manufacturer.

PrimeServ Omnicare provides third party maintenance of complete fleets and plants using a single supplier for all services.