Full service partner for Scandinavia and Northern Europe
At our service center in the port of Frederikshavn in the north of Denmark, we get you back at sea in the shortest possible time. We offer 24/7 support, 365 days a year in our workshop and have a team of experienced engineers and mechanics, a local warehouse with original spare parts and quay facilities.
Our Services
We offer you a maintenance concept tailored to fit your needs and ensure the safe, efficient, and reliable operation of your MAN engines, propellers and equipment worldwide. From inspection to overhaul and reconditioning of parts, to your individual service agreement, retrofit and training programs.
Inspection and documentation
Inspection on a regular basis and the associated documentation are essential for reliable operation. We offer inspections both in the workshop and on board vessels. In cooperation with the customer, a method description is prepared, which lists and describes all planned activities in connection with the order.
Prior to overhauls and repairs in the workshop, it is possible to have a pre-inspection carried out. This provides information on condition, machining recommendations, and which spare parts are recommended for replacement, and includes pictorial documentation of recommended repairs and replacements.
Afterwards, the responsible MAN PrimeServ technician describes in a detailed service report what was changed and repaired.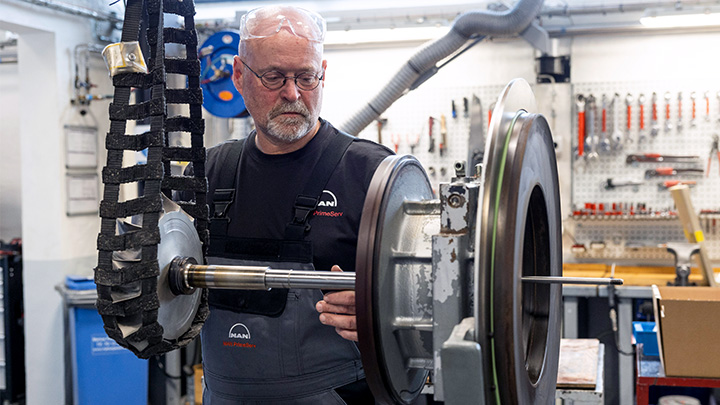 Overhaul to guarantee reliable and efficient operation
With scheduled overhauls, we ensure the best fuel economy of your engine and thus the best possible profitability. The risk of unforeseen failures is reduced and availability is optimized, operation is ensured.
Our ambition is to prevent unnecessary pollutant and CO2 emissions, therefore we take care to keep to the prescribed maintenance intervals.
Reconditioning and exchange service
We offer you fully integrated concepts, tailored to your needs. This includes a wide range of overhaul and spare parts solutions, fair pricing conditions and reliable delivery times.
Benefit from:
Overhauled key components such as fuel pumps, water pumps, cylinder heads and cylinder liners
Exchange for overhauled parts from the MAN Energy Solutions warehouse
Swing-set for the rapid replacement and overhaul of complete engines
New parts
Service agreement tailored to your needs
We ensure the supply of spare parts for the next service and support you in the matters that are really valuable to you. That is why we offer customized service agreements such as annual inspections or a general health check. Every business has its own way of operating, which is why we offer different finance plans. It is up to you to decide whether you want to choose a fixed-price or flexible payment model. Interested?
Retrofits and upgrades for a longer product lifetime
In order to extend the product lifetime and the time between overhauls, reduce CO2 emissions, and increase product performance, we at MAN Energy Solutions, together with our partners, offer retrofit solutions for all product categories. Retrofitting is possible for alternative fuels such as gas and electricity, but also for diesel.

Popular examples:
Tier II retrofit: reducing NOx emissions.
Retrofit of turbochargers
Upgrading of exhaust gas purification systems
Upgrading of seals
Improving the life of valves and valve seats for low-sulfur operation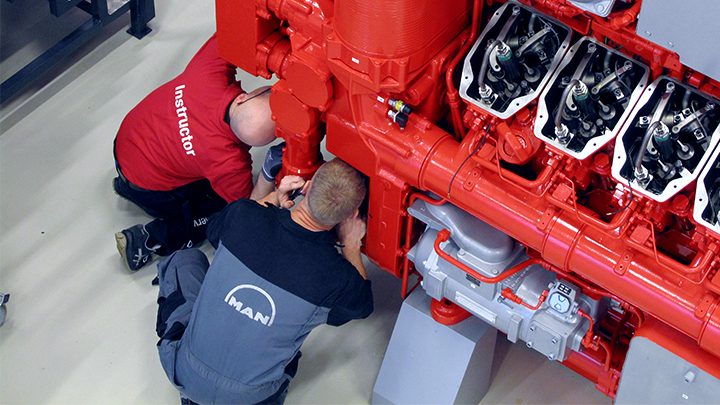 Training and education for more efficiency
In our PrimeServ Academy department, which specializes in remote control, we provide the advice and solutions you need to optimize the efficiency and availability of your motors and equipment.
quay with direct workshop access
Workshop capabilities
In our workshop, we offer you everything from a single source. In doing so, we service customers of all types, including ferries, fishing, marine, bulk carriers and off-shore. Our strong team of experienced experts is ready to support you.
Propeller blades
Resurfacing of the blade foot by machining
3D measurement and comparison with the original design, reshaping or replacing part of the blade to achieve the original specifications
More about propeller hubs and blades
Propeller hubs
Measurement and overhaul of hub windows by machining away all worn material
Crack-testing and installation of new bearing plates
Reassembly with internal propeller hub parts for a complete hub delivery
More about propeller hubs and blades
All-in one service partner

We support you from the planning of overhauls and major repairs to project completion and beyond.
Your personal technical project manager will be on hand to assist you throughout the duration of the project as one point of contact. We make sure that our joint project is handled on time and on budget, that quality standards are met, and that technical safety is ensured during the job. We pay attention to every detail of the project which includes inspecting, documentation and follow-up of the dismantled parts in the workshop.
We at MAN Energy Solutions are looking forward to offering you tailor-made solutions in the field of servicing your complete technical installation. In cooperation with the maritime company network in Frederikshavn, we can offer you dry docking, hydraulics services, surface treatment or technical insulation and interior fittings, for example.
Our local experts


Contact your local service partner at PrimeServ Service Center Denmark.
How to find us
MAN Energy Solutions SE
Langerak 74, 9900 Frederikshavn, Denmark