Efficiency Control

solutions for the

maritime industry
Encountering critical challenges at sea
Higher fuel costs and increased exhaust emissions regulations are major challenges which are facing the marine industry today. Technologies and practices to increase efficiency are essential to ensure the long-term profitability and sustainability of this sector.
Inefficiencies impact the bottom line and the environment
While still considered the most important form of bulk transportation, the shipping industry has recognized many potential areas for improvement. To stay competitive, it is necessary to keep operating costs as low as possible – including the cost of fuel, which represents one of the most pressing issues for ships. This means using technologies that help ships use less fuel and cut energy consumption overall.
At the same time, the industry needs to comply with all current and future regulations to reduce the environmental impact caused by greenhouse gases and other pollutants. New ships are required to meet the criteria defined in the Energy Efficiency Design Index (EEDI), which promotes the use of energy-efficient equipment and engines that create less pollution. Stakeholders also want highly efficient ships with an excellent energy footprint that produce fewer greenhouse emissions and minimize their CO2 footprint.
total fuel savings possible with holistic retrofitting approach
in emission reductions possible through energy efficiency, according to the Int. Energy Agency (IEA)
total operating hours registered by ME-GI/ME-LGI dual fuel engines
MAN solutions for marine efficiency
MAN Efficiency Control technologies improve a ship's fuel economy to cut fuel consumption and emissions. In this way, we help ships meet all current and future regulations, including EEDI guidelines, while reducing their overall environmental impact.
We offer our Efficiency Control technologies as part of MAN ECO CONTROL, a portfolio of technologies that will help optimize ship performance in terms of emissions, economy and operation. Ship operators benefit from smart processes, efficient operation and predictive maintenance services.
Service solutions for optimum cost-efficiency
MAN PrimeServ offers advanced modernization solutions to optimize the reliability, availability, and economic efficiency of existing equipment. Furthermore, MAN's modernization and retrofit solutions are tailor-made to customers' specific applications and machinery.
the hybridization of engine power plants reduces the CO2 emissions
Less LCOE by combining genset based power plants with BESS and PV
World's first LNG fueled bulk carrier
The Ilshin Green Iris is the world's first LNG-fueled bulk carrier, constructed at Hyundai Mipo Dockyard (HMD) in South Korea for Ilshin Logistics. It is powered by a dual fuel ME-GI (Gas Injection) engine from MAN Energy Solutions.
| | |
| --- | --- |
| Customer: | Ilshin Logistics |
| Application: | LNG fueled bulk carrier |
| Location: | South Korea |
| Completion: | April 2018 |
| Fuel: | LNG |
| MAN's Work Scope: | MAN B&W ME GI engine |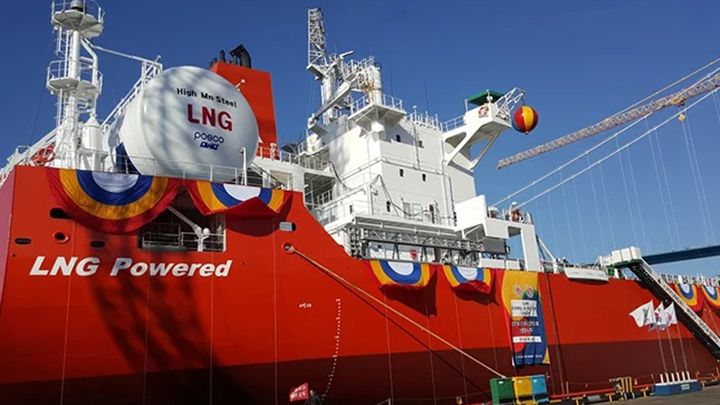 Our Efficiency Control applications
Innovative Efficiency Control solutions solve major marine industry challenges
Increase fuel efficiency for reduced fuel costs
Reduced emissions for an improved greenhouse footprint
Improved engine performance and flexibility
Help meet all current and future regulations, especially EEDI guidelines
Contact us
Four- stroke marine systems

Propeller & Aft Ship solutions

Turbocharger Power Systems A guide to maximum engine performance

LNG gas supply and bunker systems

Optimized propulsion systems

Hybrid marine propulsion systems