Sustainability

is a

mindset
Eastern Pacific Shipping's Capt. Anil Singh reveals how the shipping giant is cutting greenhouse gas emissions now
When it comes to the maritime energy transition, Eastern Pacific Shipping (EPS) isn't taking a wait-and-see approach. Instead, the shipping giant – with a fleet of more than 190 vessels – is taking action to reduce their carbon footprint today with a focus on six alternative marine fuels: liquefied natural gas (LNG), liquefied petroleum gas (LPG), ethane, biofuels, methanol and ammonia. By 2024, EPS will already have 60 dual-fuel vessels, retrofits and newbuilds, running on these fuels. We spoke with Capt. Anil Singh, Master Mariner and Chief Operating Officer at EPS, about the company's strategy to decarbonize and whether others will follow.
By Glenn van Zutphen
"Our management is driven by care for the environment…It's a mindset we're cultivating," says Capt. Anil Singh, Chief Operating Officer at Eastern Pacific Shipping. ©Alexander Manton
Earlier this year Eastern Pacific Shipping entered a partnership with MAN Energy Solutions to add dual-fuel methanol and ammonia engines to their fleet by retrofitting select vessels and constructing newbuilds. What was Eastern Pacific Shipping's motivation in looking for alternative marine fuels?
Anil Singh: As a leading tonnage provider, we have a responsibility to reduce carbon emissions. Nobody knows yet which technologies or alternative energy sources will lead us to net zero, but we do know that today there are already proven solutions available to lower emission. So, Eastern Pacific Shipping has developed a holistic program on alternative marine fuels as part of our decarbonization legacy and strategy: Biofuels are reserved for legacy tonnage, which are still being phased out. LNG, LPG, ethane, ammonia and methanol are going to be the way forward for the EPS fleet.
These fuels are now available on the market and lower carbon dioxide (CO2), sulfur oxide (SOx) and nitrogen oxide (NOx) emissions, as well as particulate matter. By this time next year, we'll have 60 dual-fuel vessels running on alternative marine fuels. We'll have ships burning LNG as a dual fuel. We'll have ships burning LPG as dual fuel and ethane – and methanol and ammonia will follow. This is what we're targeting in the near future. Of course, retrofitting existing engines is a major undertaking, which is why it's important to have partners like MAN Energy Solutions, who are technically strong and pioneers in the field.
With some 200 vessels in the fleet right now. What's your expectation on changing the fleet to those alternative fuels?

We're continually phasing out legacy vessels and replacing them with technologically state-of-the-art newbuilds. Robust asset management and fleet rejuvenation are one of the key aspects of Eastern Pacific Shipping' decarbonization policy and strategy, and in the next 24 months, the majority of new vessels being delivered to us will be powered by dual-fuel technology: LNG, LPG, ethane.
This is a massive undertaking for your group. It's a massive economic commitment.

It is, but our management is driven by care for the environment. For example, a couple of years ago we started with a no single-use plastics policy on board and supplied the staff with reusable water bottles. And all of the new and legacy ships are being transformed to accommodate onboard staff, giving them a modern platform in line with our environmental policies. This makes our crew happy to work on our ships and motivated to be part of an organization that's leading decarbonization efforts and caring for the environment. We've even started growing hydroponic plants on board five ships so the crew has fresh greens every day. It's a mindset we're cultivating, investing in the human element both on board and ashore.
A model for lowering shipping emissions today: LNG and other alternative marine fuels are a major component of Eastern Pacific Shipping's strategy to lower greenhouse gas emissions immediately. ©Eastern Pacific Shipping
worldwide carbon-emissions by international shipping
The IMO aims to reduce maritime greenhouse gas emissions by 50 percent by 2050
average annual emissions reduction that is needed between now and 2030 to maintain a net zero pathway for shipping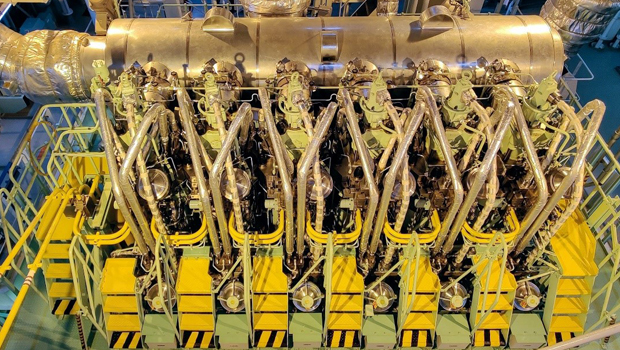 The ME-LGIM dual-fuel engine offers a clear path to decarbonization when used with methanol produced from renewable resources. ©MAN Energy Solutions
When you look at your relationship with MAN Energy Solutions to retrofit your legacy ships, what is your working arrangement with MAN?
What we've done in our discussions with Bjarne Foldager (Senior Vice President and Head of Two-Stroke Business at MAN Energy Solutions) is totally different from what others are doing in the industry. We took a hard look at all the engines available and decided to go for the alternative with MAN Energy Solutions. There is a cheaper alternative on the market, but our goal is to reach net zero while caring for the "human element". So rather than have a different engine on each ship or having a fleet of ships with different engines, we're making a sustained effort to have MAN ME-GI and ME-LGI engines across the fleet, which means our staff on board will only have to be well trained on those engines.
Why specifically MAN Energy Solutions, since you mentioned that there are other alternatives on the market?
The after-sale service, the quality of management when MAN Energy Solutions brings a new product into the market, the effort they make to teach us EPS about the equipment even before we've bought it. The engines from all 60 of our dual-fuel vessels will be coming from MAN Energy Solutions. The legacy vessel engines also come from them. Eastern Pacific Shipping has a tradition of being synced with MAN Energy Solutions.
Nobody knows yet which technologies or alternative energy sources will lead us to net zero, but we do know that today there are already proven solutions available to lower emission.
In February 2021, Eastern Pacific released the results of a high-profile test aimed at changing bunker fuel to biofuel. Can you tell us about the test?
We did that on a Singapore flagship with the support of MPA (Maritime & Port Authority of Singapore) classification society, ABS, and MAN Energy Solutions. We also partnered with GoodFuels Marine to conduct a fuel test on one of our vessel's main engines, using biofuel made from 100 percent sustainable waste and residue steams. The results of the trial showed zero carbon dioxide emissions from tank to exhaust while using biofuel in the main engine. We ran the ship across the Atlantic and checked the engines after arrival – they were clean. We took pictures of the emissions, and nothing was coming out of the funnel. The trial shows that biofuel could be a good alternative marine fuel for existing tonnage.
How did that make you feel?
It made everybody feel good. The ship's staff enjoyed the clean air. You might call it psychological, but they celebrated on arrival.
How do you feel about your position among your competitors in driving decarbonization in the shipping industry?
In the coming years, EPS will have one of the largest fleets in the world powered by dual-fuel technology. It's not about being ahead of the curve, it's about setting benchmarks and sharing best practices so that the industry can collectively move forward towards the goal of decarbonization. We're proud to be doing both of these.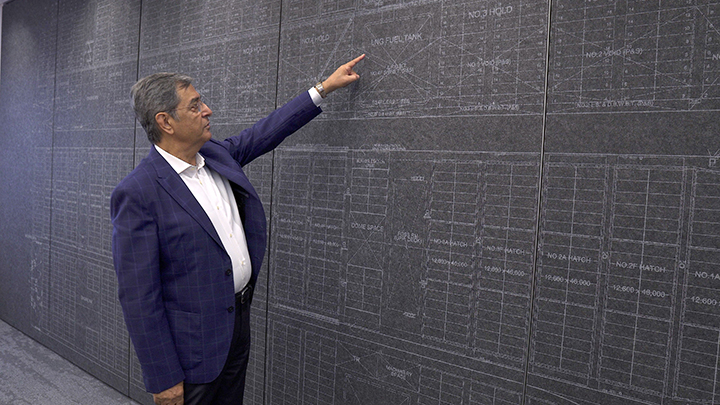 Alternative fuels at the heart of the maritime energy transition: EPS's retrofits and newbuilds like the schemata here for an LNG carrier vessel with an ME-GI engine will be IMO 2030 compliant years ahead of schedule. ©Alexander Manton
Over the decades shipping in general has gotten a bad reputation for its environmental practices. In general, it hasn't been a clean industry. As EPS moves ahead, you're doing so with several other major shipping lines. How long will it take to get the smaller players, without deep pockets, on board this journey and make significant changes?
We see a gradual move in that direction. It's starting right at the top, and I hope it trickles down to the smaller players. But it will take a long time. They will either stay in the business and follow the IMO's set rules or leave the business. I see a future where one day every new ship off the dock has either a net-zero emission engine or a flexible-fuel engine as standard practice. MAN Energy Solutions has the ME-GI engines burning LNG and low sulfur, the LGIP engines burning LPG, and the ethane engines burning low sulfur and ethane. This is what we have. Everything in the beginning is going to be expensive, but it's our hope that more of the industry players will join the bandwagon and order ships so that the pricing goes down.
When do you think the industry will reach a net zero emission threshold?
Our newbuild program presently runs into 2025. And as we phase out the legacy vessels, we keep replacing them. We started in 2017 with the first dual-fuel container vessels. We were the first to order an ME-GI engine. And these started delivering in 2020. We have five on the water already and 17 more to go. We believe we'll see a total change in the type of engines burning various fuels by 2030. But you have to put your money where your mouth is. You have to be committed, and if you say you're going to do it, you do it. It's going to be difficult for many organizations to get their stakeholders in line to pull the industry along.
Glenn van Zutphen is a journalist and radio talk show host based in Singapore.