Maritime shipping's

green methanol

powerhouse
Methanol-fueled ships: Testing of an ME-LGIM engine in Korea
As the world races to decarbonize amid rising temperatures and intensifying heatwaves, the global shipping industry has struggled to wean itself off heavy fuel oil. But now in South Korea, MAN Energy Solutions and HD Hyundai Heavy Industries – Engine and Machinery Division are building large-scale engines for container ships that can run on green methanol – a key signal to the shipping industry that climate-neutral fuels are about to take over and the technologies enabling the transition are available today.
By Tim Hornyak
Deep in the heart of HD Hyundai Heavy Industries' (HD HHI) Ulsan shipyard stands a collection of enormous buildings, each the length of several city blocks, surrounded by titanic vessels in various stages of construction. The shipyard, one of the largest in the world, produces dozens of vessels annually, ranging from tankers and container vessels to LNGCs that transport products and commodities around the world. Without a doubt, the vessels are a monumental feat in naval engineering, but today inside Assembly Shop 2-1 is something momentous.
Standing amid enormous crankshaft parts and other components is an engine that has become a revolutionary force in sustainable shipping: the MAN B&W ME-LGIM engine from MAN Enegy Solutions – a two-stroke, dual fuel engine capable of delivering carbon-neutral transportation when run on green methanol.
This engine represents a remarkable milestone in decarbonization solutions.
Methanol-fueled engines for future-proof shipping
It's the first engine of its kind to be built here at Ulsan, and getting a close-up view of one of these green powerhouses at HHI-EMD's Assembly Shop 2-1 is an eye-opening experience for anyone unfamiliar with them. Weighing in at 1,644 tons and with a respective length and height of 16.1x16 meters, it looms over three stories tall, about the size of a house or small office building, and has a cylinder bore-size of 95 centimeters.
After huge overhead gantries lift it into position on the testbed, HHI-EMD and partner company staff put the ME-LGIM through a series of tests before its factory acceptance test. In the Korean summer, the high heat and humidity in the assembly shop, in addition to noise levels reaching 90 dB, make it grueling work, but everyone is determined to confirm the engine's performance meets expectations for propelling a 16,200 TEU container vessel and taking the industry one giant leap toward sustainable shipping.
And understandably so: Today, shipping accounts for some 3 percent of the world's greenhouse gas emissions. With growth in demand for shipping, that figure could reach 10 to 13 percent in a few decades if no action is taken, according to the European Commission.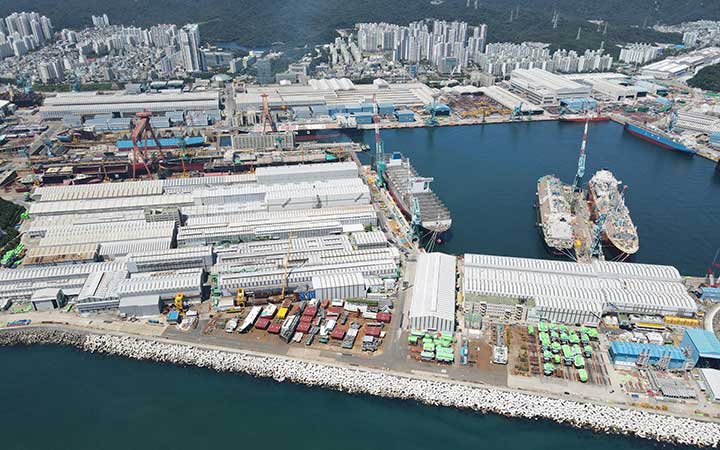 HHI's Ulsan shipyard produces dozens of gigantic vessels annually for the shipping market, but are breaking new ground with the testing of the second G95-ME-LGIM engine. ©Yo Choi
Methanol as marine fuel
Shipping has been constrained by the need to find alternative fuels that are clean, cost-effective and practical, and green methanol has gained worldwide attention as one of the best candidates. Methanol is an organic chemical used in paints, plastics, construction materials and car parts. When burned, it produces a lower amount of CO2, particle and sulphur emissions compared to Heavy Fuel Oil (HFO).
Of course, CO2 is emitted as well (1.4 kilograms per kilogram of methanol versus 3.1 kilograms per kilogram of fuel oil), but methanol's renewable version – green methanol – is created by chemically combining biogenic or captured CO2 with green hydrogen generated from renewable electricity sources such as solar, wind or biomas, making it a carbon-neutral fuel. One ME-LGIM engine (8G95ME-C10.5-LGIM) can save around 100,000 tonnes of fossil CO2 emissions annually when operating on carbon-neutral methanol.
Green methanol also has some advantages over other low- or zero-carbon alternative fuels. For one, it is liquid at room temperature, easily stored and does not require pressurized or cryogenic tanks. Current challenges, however, are price and availability. Green methanol can be up to twice as expensive as HFO but packs only half its energy content, meaning ships must carry more or refuel more frequently. For example, on average a vessel with a capacity of 17,000 TEU operating at 70 percent load will use around 112 tons of fuel oil per day; with methanol, that number increases to around 222 tons.
The ME-LGIM being tested today will power a 16,200 TEU container vessel. Run on green methanol, over the course of its lifetime the engine can save millions of tonnes of CO2. ©Yo Choi
Moreover, to make the new fuel widely available, port operators must face the high cost of equipping facilities for methanol bunkering and fuel producers must ramp up to mass production. However, the uptake of methanol engine orders is a relatively new trend driving demand for green methanol, and with the surge in methanol engine orders, the industry is already seeing a steep increase in production plant investments.
of CO2 emissions can be saved each year by a single 8 cylinder G95-ME-LGIM engine.
of the world's greenhouse gas emissions come from shipping.
of CO2 could be saved if just 1% of marine fuel was replaced with green methanol worldwide.
Methanol-fueled engines to propel the maritime energy transition
Despite these challenges, green methanol got a major boost in 2021 when Danish shipping and logistics giant A.P. Møller-Maersk A/S began placing orders for a future-oriented green fleet. By June 2023, it had 25 methanol-enabled vessels on order. The following month, the Laura Maersk, the first vessel in this fleet, departed from the Hyundai shipyard in Ulsan on its 21,500-kilometer maiden voyage bound for its naming ceremony in Copenhagen – the world's first methanol-enabled container vessel powered by an ME-LGIM engine. Currently, MAN Energy Solutions has a global orderbook of more than 150 ME-LGIM eingines.
Originally entering service in 2016 to propel methanol carriers, the MAN B&W ME-LGIM is the world's first two-stroke methanol engine and has since accumulated over 500,000 hours running on methanol alone. It can operate on both methanol and conventional fuel oil and is based on the company's proven ME-C series. The order from Maersk is the first for a ship type to run on green methanol other than a methanol carrier, breaking entirely new ground for the industry.
In July 2023, the Laura Maersk, the first methanol-enabled vessel departed for Copenhagen. In total, Maersk has 25 currently on order.
More two-stroke methanol engines for the shipping industry
"This ME-LGIM project has created a big momentum to motivate other container liners and shipping companies to use green methanol and speed up decarbonization in their fleets," says Sang Bae Cha, Head of Marketing Marine Solutions at MAN Energy Solutions Korea Ltd. "Our ME-LGIM will help Maersk meet its ambitious 2040 emissions targets and can play an important role in bringing carbon-neutral propulsion to the industry."
With more ambitious climate targets from the International Maritime Organization (IMO) and big interest in green engines both for newbuilds and ship conversions, Cha expects orders for the ME-LGIM engine to rise quickly. To meet that demand, MAN Energy Solutions has now expanded their portfolio with 45-, 60-, 70- and 80-bore methanol engines that will be able to power all types of vessels, including bulk carriers, large tankers and container vessels ranging in cargo capacity from around 1,000-TEU up to more than 24,000.
"Many leading container lines are preparing for green methanol," says Cha. "When I look at our engine order backlog, the container vessel size varies from 1,000 to 23,000 TEU. There's also interest in green methanol as a fuel in other shipping segments like PCTC, bulk carriers and tankers. This is why we decided to expand our ME-LGIM program and develop those bore engines." As a fuel, the future for methanol looks promising and MAN Energy Solutions expects it to encompass more than 30 percent of all dual-fuel engine orders in 2023.
This LGIM project has created a big momentum to motivate other container liners and shipping companies to use green methanol and speed up decarbonization in their fleets.
Once testing is completed, the MAN B&W ME-LGIM engine here inside the Assembly Shop 2-1 at Ulsan will be delivered to another shipyard for installation in a vessel, a process that will take around six to eight months. Afterward, the sea trials begin, measuring the vessel's performance and seaworthiness before its commissioned. Meanwhile, the methanol engine that passed its Factory Acceptance Test in April 2023 is due to power the first large-scale containership that will be delivered to Maersk and enter service in the first quarter of 2024 – a key signal to the industry that the future of green shipping starts now.
About the author
Based in Tokyo, Tim Hornyak has written extensively about technology, science, culture and business in Japan. His writing has appeared in a number of major media outlets, including Scientific American, The Japan Times, The New York Times, CNBC, CNET and IDG News. He has lived in Tokyo for more than 20 years.
The world's first two-stroke methanol engine
The MAN B&W ME-LGIM two-stroke dual-fuel engine can run on methanol as well as conventional fuels. Specifically designed to meet the needs of the maritime industry, it is a versatile and scalable solution that is suited to a wide range of vessel types. Simple handling, storage, and bunkering of methanol, combined with relatively simple auxiliary systems and the potential to be carbon-neutral, makes it an attractive option for meeting decarbonization targets.
Learn more about MAN B&W LGIM
The Haru Oni demonstration plant could pave the way for a viable alternative to fossil fuels: It produces synthetic e-fuels from hydrogen that can help the fight against climate change. MAN Energy Solutions provided the e-methanol reactor to the plant.

How a seaport town in Denmark is decarbonizing district heating with seawater and large-scale industrial heat pumps.

MAN Energy Solutions experts on the climate impact and business case for converting ships to dual-fuel engine operation.