Designing the

engines

of the future
Are hydrogen-powered solutions the sea change required for a decarbonized maritime sector?
The time is ripe for sustainable engine solutions in the maritime sector. The International Maritime Organization (IMO) has pledged to halve carbon emissions by 2050, while pursuing efforts to phase fossil fuels out completely. Research has ramped up on substitute solutions, such as hydrogen, ammonia or methanol – all of which can be either zero-carbon or carbon-neutral in the future. In their quest to develop a hydrogen-fueled internal combustion four-stroke engine, development engineers Sebastian Rösler and Christian Friedrich are part of MAN Energy Solutions' drive for decarbonized engine solutions.
By Moritz Gathmann
In the control room of the test center, Sebastian Rösler and his colleague are checking the parameters for the 20-percent hydrogen engine that is due to be released later in 2021.
Sebastian Rösler was eighteen when he first understood how hydrogen could be used to propel our society towards a sustainable future: For his science project at school, he constructed a fuel cell powered by hydrogen for a model car. The hydrogen in question was produced through electrolysis using electricity generated by a little solar panel.
Fast forward to two decades later, and Rösler is at the center of what may be the biggest challenge of our generation: decarbonization – the conversion of our fossil-driven economy to one that generates only net-zero carbon emissions. "For this purpose, we are re-inventing the internal combustion engine," says Rösler, development engineer at MAN Energy Solutions.
to 5€ are the current estimated costs for a kilo of green hydrogen
metric gigatons of carbon emissions could be reduced annually by using hydrogen worldwide
of green hydrogen production costs are expected to fall by 2030, according to the International Energy Agency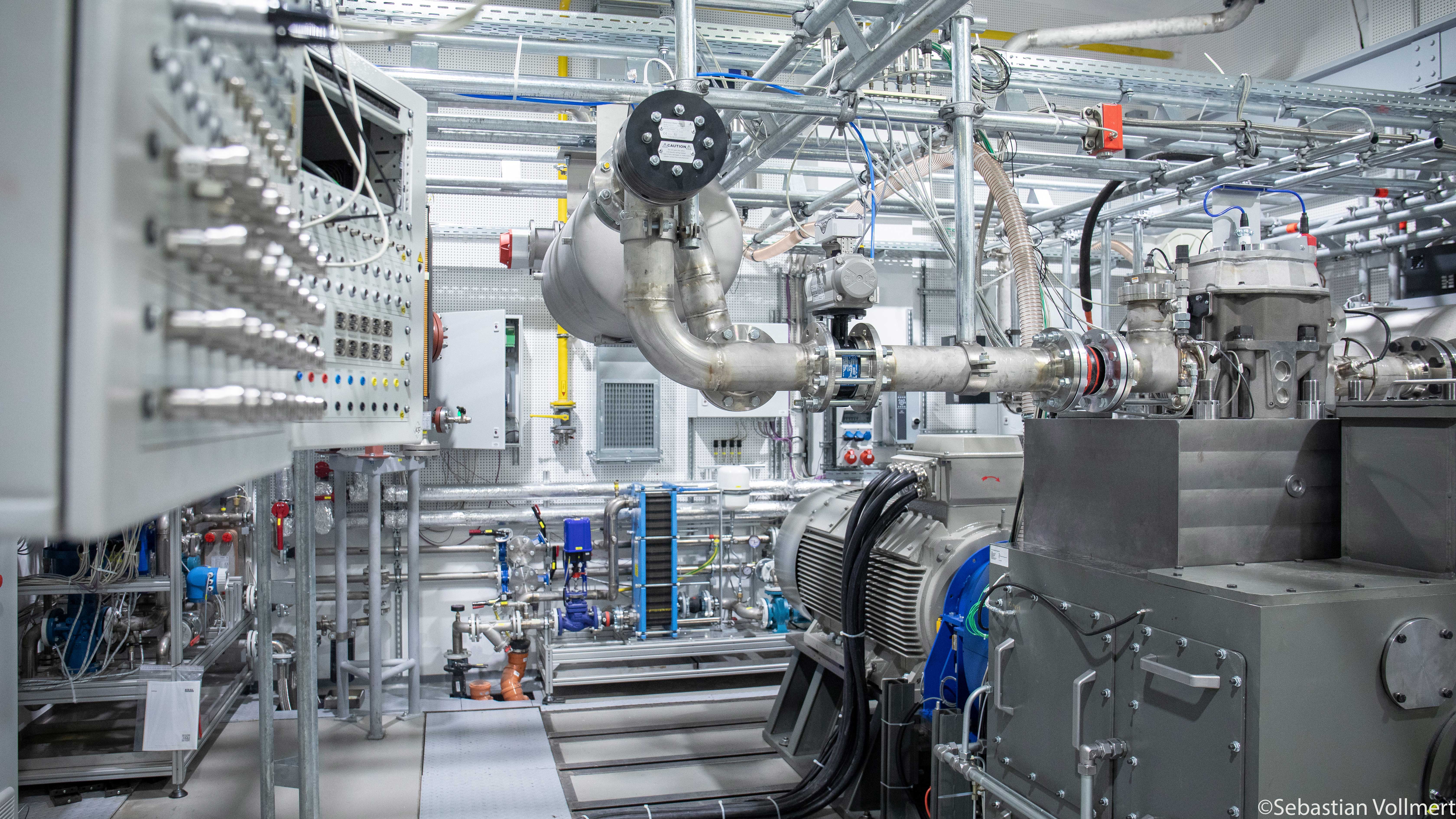 At a test center in Dessau-Rosslau, Germany, MAN Energy Solutions explores several fuels to create the combustion engines of the future: hydrogen, ammonia, and methanol.
The search for the best alternative fuel is on
While battery-driven engines are gradually replacing the combustion engine of old in the automotive sector, this solution is not feasible for more powerful engines, especially in the maritime sector. Here, the search for the best alternative to fossil fuels is still on.
For Sebastian Rösler, that search is yielding first results: Today he and his colleagues are monitoring test runs of a single-cylinder hydrogen-fired 645-kilowatt four-stroke engine from the control room in Dessau-Rosslau, a small city south of Berlin. Two years of meticulous testing and subtle adjustments are slowly coming to an end. Two years of poring over questions such as: What is the perfect pressure of the gas? What is its perfect temperature? What is the ideal gas mixture?
"Our first engine solution will be for stationary applications and run on up to 20 percent hydrogen in volume. It will emit up to 10 percent less CO2 compared to an engine running purely on natural gas," says Rösler. The engine that is running calmly in the hall next door is the prototype of such a 20-percent hydrogen-fired, stationary engine that is due to enter the market by the end of 2021.

Technically, the difference of this combustion engine compared to a conventional engine is not big. "But you need a sophisticated engine control. We have solved this challenge with our cylinder pressure-based control strategy," says Rösler. "100-percent hydrogen-fired solutions for the marine market will follow by the end of the decade."
We are re-inventing the internal combustion engine.
MAN Energy Solutions started its research in alternative fuels for internal combustion engines long before Rösler was doing his hydrogen experiments at school. But there were two problems: Firstly, the demand for decarbonized propulsion systems in the maritime sector or for power applications was not robust enough. Secondly, the technology for producing green hydrogen was not yet fully developed.
Both has changed in recent years. On the one hand, the International Maritime Organization has set itself an ambitious goal: a reduction of greenhouse gas emissions in the maritime sector by 50 percent compared to 2008 by the year 2050. In addition, the engines developed in Rosslau are equally attractive for municipal utilities, which are also under pressure to reduce their output of CO2. On the other hand, the production of hydrogen by using renewable electricity is not a significant technical problem anymore – electrolyzers are a proven technology and are becoming widely available.

The challenges lie in other fields, as Rösler explains: Compared to other sources of energy, hydrogen's density is very low. This means that you need big tanks to provide a steady supply for the engine. Additionally, hydrogen has to be stored at either high pressure or very low temperatures.
Fuel tanks with ammonia, methanol and hydrogen for the test runs validating the engines of the future.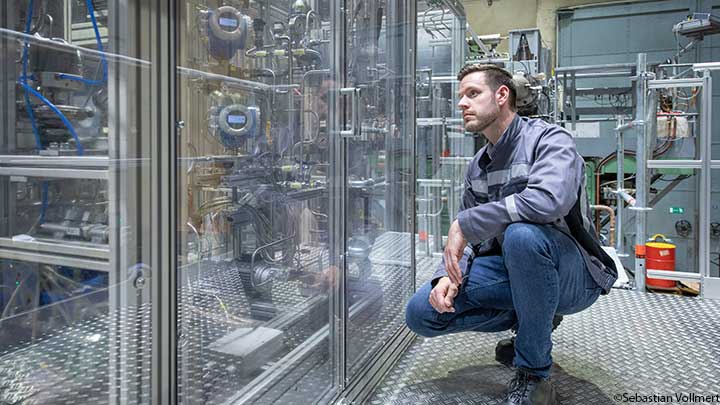 Christian Friedrich of MAN Energy Solutions: "We are developing the most efficient, economic and sustainable solution for our customers."
A variety of solutions for different applications
The specific properties of hydrogen caused MAN Energy Solutions to research and develop much broader from the beginning: This is why, in Rosslau, there are also test benches for four-stroke combustion engines running on methanol and ammonia, which are also near to producing market-ready solutions. The first methanol retrofit solution for four-stroke applications, for example, will be ready in 2024. Rösler is in constant exchange with the engineers running these projects.
The engineers of MAN Energy Solutions see hydrogen as a promising future fuel, either for direct combustion in certain applications or as chemical basis for other alternative fuels. "For example, green methanol could be synthesized from carbon dioxide and hydrogen, leading to a carbon dioxide-neutral combustion," says Christian Friedrich, the engineer responsible for the methanol test bench in Rosslau.

The investigations in Rosslau are part of an extensive research project called E2Fuels, which analyses the use of electricity-based fuels and hybrid systems for different applications focusing on maritime use and power. Which technology will provide the breakthrough? "There will be a variety of solutions – depending on the respective application," says Rösler. "We are developing the most efficient, economic and sustainable solution for our customers," confirms Rösler's colleague Christian Friedrich.
There will be a variety of engine solutions – depending on the respective application
Paving the way for 100 percent hydrogen
The next step in the evolution of the hydrogen engine will consist in fuel-share applications running on hydrogen as well as diesel fuels. Rösler envisages them powering ships with ultra-low emissions in coastal regions within this decade. This is the direction his team's research is going this year. The development of a 100-percent hydrogen application will be a further huge step. "We will focus on spark-ignited power applications as a roll-out of a 100-percent backbone gas grid," says Rösler. "Hydrogen oversea transport will probably be one of the first fields of application for a 100-percent hydrogen engine in the maritime area."
But for four-stroke engines running on 100 percent hydrogen, ammonia or methanol, some well-considered changes have to be made, especially in the fuel injection system, explains Rösler. Additionally, the compatibility of materials has to be checked and supercharging needs to be adapted. The challenges are clear, and the pressure is high: Due to the lifecycles of several decades of engines of this size, the first applications have to be launched soon, even if totally decarbonized fuel is not yet available in sufficient quantities. In Rosslau, Rösler and his colleagues are paving the way for these solutions. "I'm convinced that we already have the tools available to make the maritime industry sustainable," says Rösler. "Let's use them!"
Berlin-based journalist Moritz Gathmann has been reporting as a correspondent from various regions of Europe for German publications since 2004. His work has been published in DER SPIEGEL magazine, Frankfurter Allgemeine Zeitung, and other media.