Executive Board of MAN Energy Solutions
Dr. Uwe Lauber -Chief Executive Officer, Chief Technology Officer
Dr. Uwe Lauber was born in Bad Säckingen in Germany in 1967. After graduating from high school he studied Mechanical Engineering at the University of Applied Sciences of Technology, Economics and Design (HTWG) in Konstanz and obtained a Masters Degree. In 2000, he studied Business Engineering at the business school in St. Gallen. In addition to that, in 2009, he received a PhD in mechanical engineering from the University of Kronstadt.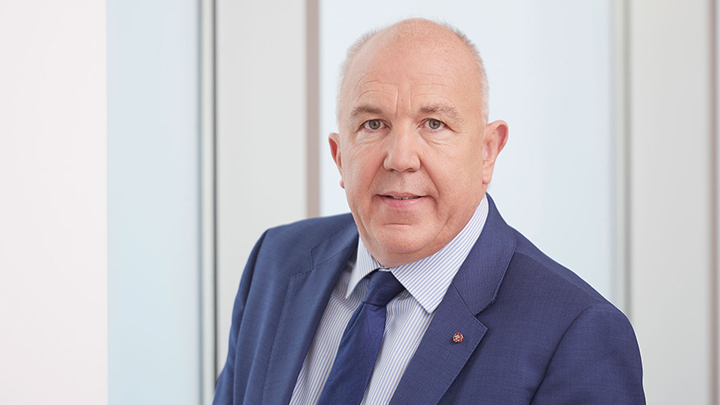 Wayne Jones - Chief Sales Officer
Wayne Jones was born on April 8, 1966, in Manchester, United Kingdom. After leaving school, he undertook a four-year Mechanical Engineering apprenticeship in the aviation industry, before moving into rotating equipment in 1985. He studied at Stockport College of Technology graduating in 1992 with an Honors Degree in Mechanical Engineering.

After nine years working for Mather and Platt and the Weir Group, with overseas assignments in Norway and the Middle East, Wayne joined Sulzer Pumps as Project Manager in the Engineering Department.
Jürgen Klöpffer -
Chief Financial Officer
Jürgen Klöpffer was born in Passau, Germany, in 1964. After graduating from high school, he studied Business Administration at the University of Passau, graduating with a master's degree.
In 1990, he started his professional career at Siemens AG, where he held various positions in purchasing and logistics in Regensburg, and later in Mexico.
Martin Oetjen -
Chief Operating Officer
Martin Oetjen was born in Buchholz in the Nordheide in 1968. In 1988 he began studying mechanical engineering at the TU Braunschweig, graduating in 1995 with a degree in engineering.
Since August 1, 2020 Martin Oetjen has been a member of the Executive Board of MAN Energy Solutions SE and is responsible for the company's entire supply chain.
Martin Rosik - Chief Human Resources Officer
Rosik (58) holds a degree in economics and has been with the Volkswagen Group for 17 years, holding various functions. As an HR manager, he also has extensive experience in various sectors of industry highly relevant to the business of MAN Energy Solutions SE — from the foundry industry, plant engineering and the construction industry through to the service sector.
Thursday, July 15, 2021
MAN ETES receives "Solar Impulse Efficient Solution" label
The trigeneration energy storage and management technology MAN ETES receives the "Solar Impulse Efficient Solution" label that recognizes profitable solutions to protect the environment.
MAN ETES (Electro-Thermal Energy Storage) was attributed the "Solar Impulse Efficient Solution" label following an assessment performed by external independent experts and based on verified standards. MAN Energy Solutions is thereby joining the #1000solutions challenge, an initiative by Swiss environmentalist Bertrand Piccard's Solar Impulse Foundation, to select climate friendly solutions that meet high standards in profitability and sustainability.
"I'm delighted that our MAN ETES technology has received this important acknowledgement from the renowned Solar Impulse Foundation," states Patrik Meli, Managing Director of MAN Energy Solutions Switzerland. "Our technology solution works as a bridge between the power supply and heat/cold supply sectors. With this game-changing approach, MAN Energy Solutions is breaking down the existing silo mentality in the industry. We are doing so because we are convinced that intelligent sector-coupling technologies, like MAN ETES, are the key to a decarbonized, sustainable energy future."
MAN ETES is a large-scale, trigeneration, energy management system for the simultaneous storage, use and distribution of electricity, heat and cold. The system tackles two fundamental challenges: on the one hand, it helps balance the grid by absorbing large amounts of surplus or off-peak electricity from renewables, feeding it back into the grid on demand; on the other, it integrates multiple sectors by generating, storing, and providing thermal energy for heating and cooling purposes.
In January 2021, MAN Energy Solutions was commissioned to supply two MAN ETES Heat Pump systems to Danish multi-utility company DIN Forsyning. The new plant will supply around 100,000 inhabitants of Danish port city, Esbjerg, with approximately 235,000 MWh of heat annually and replace the city's coal-fired power plant.
To receive the "Solar Impulse Efficient Solution" label, MAN ETES was thoroughly assessed by a pool of independent experts according to diverse criteria covering the main topics of feasibility, environmental-friendliness and profitability. All labelled solutions are part of the #1000solutions portfolio that will be presented to decision-makers in business and government by Swiss explorer and environmentalist Bertrand Piccard, Chairman of the Solar Impulse Foundation. The aim of this initiative is to encourage the adoption of more ambitious, environmental targets and fast-track the implementation of innovative solutions on a large scale.
About the "Solar Impulse Efficient Solution" label:
One of the first labels for positive impact businesses bringing together protection of the environment and financial viability, the "Solar Impulse Efficient Solution" label is attributed following an assessment performed by external independent experts. In collaboration with renowned institutions, solutions applying for the label must go through a neutral methodology based on verified standards.
About the Solar Impulse Foundation:
The Solar Impulse Foundation is dedicated to accelerating the implementation of clean and profitable solutions. Moreover, the Foundation is helping decision-makers in businesses and governments to achieve their environmental targets and adopt more ambitious energy policies, which are necessary to pull these solutions to market.
More about MAN ETES: MAN ETES (Electro Thermal Energy Storage) - Solar Impulse Efficient Solution
Documents
20210715_MAN_ES_Press-release_ETES-Solar-Impulse-Foundation_EN

20210715_MAN_ES_Press-release_ETES-Solar-Impulse-Foundation_DE