A milestone of a special kind
How far can an engine take a ship? The answer is – with the right engine – very far indeed. So far that an impressive number of engines from MAN Energy Solutions have achieved this magical threshold of over 100,000 operating hours. What is special about this? A car that is driven 20,000 km in one year with an average speed of 60 km/h may reach approx. 333 operating hours / year. You would therefore need over 300 years to achieve 100,000 operating hours in this way.
Going back to the maritime world, all these ships operate in different waters and vary in size and remit. Sometimes the figures speak for themselves – nevertheless it is worth shining a closer light on the factors that lead to such a long engine lifetime.
We'll go on a voyage of discovery and scrutinize one of the ships belonging to our partner, Jan De Nul Group, more carefully. The "Alexander von Humboldt" was built in 1998 and is one of the many Trailing Suction Hopper Dredgers in the fleet of the Luxembourg family-owned company. The "Alexander von Humboldt" is the first ship to have been operated for more than 2,000 hours with sustainable biofuel – in addition to the operating life of over 100,000 hours, the hopper dredger can therefore also exhibit an impressive reduction of CO2 emissions by 80%. The 120.5-meter-long and 24.4-meter-wide dredging vessel is driven by two MAN 12V32/40 engines as main machines with four NR29/S turbochargers and a MAN 7L32/40 engine as an auxiliary engine.
We trust our partner MAN Energy Solutions
Mr. Tuybens, in your opinion, what does a ship achieving so many operating hours depend on?

"It has to do with various factors. We are in constant dialogue with each other, discussing possible improvements to the engines, sharing experiences and learning from each other. Plus the fact that only MAN original parts are installed, is also an important reason. I also want to stress the importance of the correct follow-up of the maintenance schedule by our fleet department, and motivated and experienced crewmembers on board."

Who knows MAN´s equipment best? Our experts and service engineers are trained according to both: highest technical and safety standards.
TBO extension, new OEM spare parts or reconditioning: MAN PrimeServ offers a huge variety of service offerings for highest flexibility, cost efficiency and safety.
What does the idea of the 100,000 Hours Club mean for you? Is it just a marker to achieve, or is it something special for you?

We are very proud to have achieved this milestone! And it is a confirmation that we have selected the right partner with MAN Energy Solutions. The successes speak for themselves. The "Alexander von Humboldt" is now no longer the only vessel in the fleet of Jan De Nul Group equipped with MAN marine engines that has exceeded 100,000 operating hours. We therefore have every reason to loo­k forward to the future and further collaboration.
Design. Set up. Connect.

The Luxembourg family-owned company Jan De Nul Group carries out water and land projects worldwide. Its field of activity ranges from complex offshore services in the areas of oil, gas and renewable energies, through major dredging works and land and coast reclamation projects, right up to demanding civil construction programs and environmental activities.
In 1938, Jan Frans Jozef De Nul set up the business PVBA Jan De Nul together with his father, with the purpose to execute all types of public and private works. In 1951, Jan De Nul entered the dredging industry with a first dredging project in Belgium. In 1967, the first larger hopper dredger, the "Sanderus", was ordered. In 1991, Jan De Nul started his first offshore project (gas pipeline from Norway to Belgium). Today, Jan De Nul Group operates over 80 vessels of which 32 are equipped with around 100 MAN engines.
Jan De Nul Group places great value on a clean environment – which is why the company is increasingly investing in rebuilding vessels with a ULEv application (Ultra-Low Emission vessels) and the use of various kinds of low-sulfur oils and biofuels. Here too, the activities of both partners complement each other very well, as MAN Energy Solutions also actively supports the maritime energy revolution with relevant R&D projects and products.
Alexander von Humboldt, hopper dredger and one of the vessels of the Jan De Nul fleet that has reached more than 100,000 running hours.
It is not at all hard to become part of the "100,000 Hours Club" if the framework conditions have been fulfilled.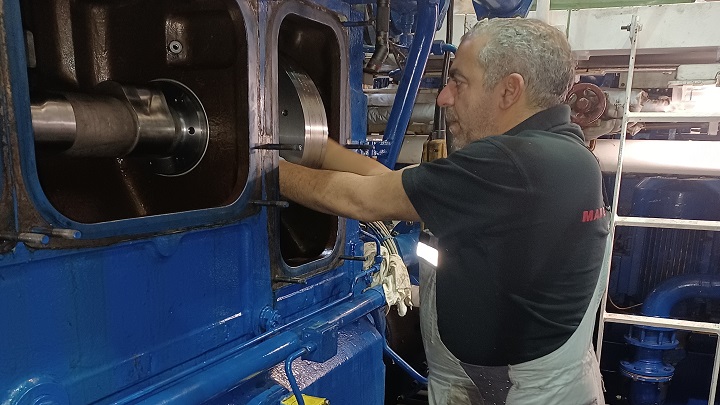 Many challenges during overhauls can be solved with field experience and daily routine by our service engineers. Here: checking the crankshaft of the "Alexander von Humboldt".
Can every engine achieve 100,000 operating hours?

Dirk Willems, Managing Director at MAN Energy Solutions, answers this question as follows: "It is not at all hard to become part of the "100,000 Hours Club" if the framework conditions have been fulfilled. In addition to contractual obligation, e.g. via a long-term service agreement, the purchase of original MAN spare parts and the use of the PrimeServ Technical Service are also included here. This is rounded off by knowledge transfer via our MAN PrimeServ Academies."
However, the base for this outstanding performance is a robust and reliable MAN engine.
Read more about our comprehensive four-stroke engine portfolio or get more info about our retrofit options