Boosting marine applications

MAN Cryo is your trusted partner in supporting the maritime energy transition and decarbonization efforts. As pioneers in the industry, we offer mainly engineering services for cutting-edge applications designed to harness the power of future fuel types, including liquid hydrogen and methane. With our expertise and innovative solutions, we are driving the transformation towards a greener and more sustainable maritime sector.
liquid hydrogen (LH2) storage temperature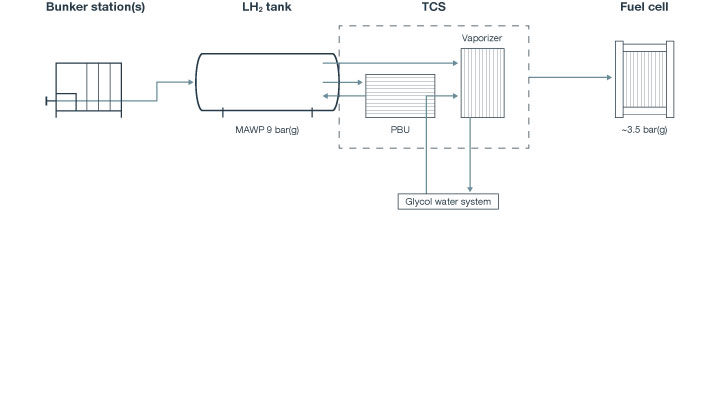 LH2 FGSS for zero-emission vessels
Embrace the future of clean and sustainable marine operations with our innovative liquid hydrogen fuel gas supply system. Our certified system paves the way for zero-emission vessels, offering a comprehensive solution that encompasses bunkering, LH2 storage, vaporization, gas distribution, and seamless compatibility with other MAN products. Rest assured, our fail-safe designs are backed by rigorous risk assessments and approved by leading classification societies.

Low-pressure and high-pressure LNG FGSS solutions for four-stroke applications

Experience the power of MAN Cryo for four-stroke marine applications. With our expertise in low- and high-pressure LNG FGSS, we have been at the forefront of innovation for over 20 years. As pioneers in the field, we have collaborated with major classification societies and renowned component suppliers to deliver robust designs capable of withstanding even the harshest weather and ice conditions. Discover our automated systems that guarantee optimal functionality and embark on a new era of marine excellence with MAN Cryo.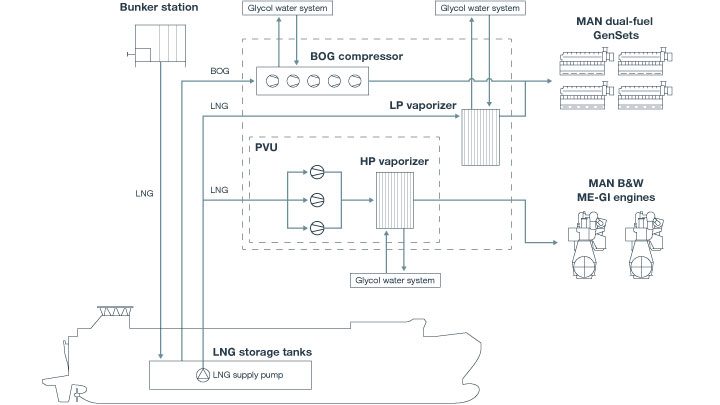 High-pressure LNG FGSS solutions for two-stroke applications
In partnership with selected industry leaders, MAN Cryo delivers comprehensive LNG fuel gas systems tailored specifically for MAN B&W ME-GI two-stroke engines. Our robust solutions have been successfully proven across a diverse range of vessel types, conquering the toughest conditions while guaranteeing superior automated system functionality. Experience the ultimate in LNG-powered performance for your two-stroke marine applications with MAN Cryo's high-pressure LNG FGSS.
Learn how you can stay cool under pressure!
You can trust MAN Cryo to be your engineering partner, providing expertise in bunkering, storage, and regasification, and enabling you to embark on a sustainable and emission-free maritime journey.

Contact our experts