Strong and smart: Four-stroke propulsion engines
In times when there is a great need for more intelligent fuel use in marine applications and flexible propulsion systems, MAN Energy Solutions is facing the challenge of meeting environmental standards without sacrificing propulsion efficiency and ship performance.
Full range of MAN four-stroke propulsion engines
Explore the capabilities and range of our four-stroke propulsion engines.
High power combined with high efficiency: Our four-stroke propulsion engines
MAN L+V51/60DF propulsion
Let your fuel take you further! By combining diesel and gas technologies in one engine, the MAN 51/60DF provides optimum fuel flexibility. There is no better way to keep your engine running effectively and economically.
MAN L+V49/60DF propulsion
The MAN 49/60DF is future-proof in multiple ways. Its benchmark fuel efficiency guarantees competitive vessel operation. The very low level of methane emissions ensures long-term CO2 emission compliance.
600 rpm
7,800 – 18,200kW
At 600 rpm: 1,300kW
Power-to-weight ratio: 13.5 – 16.7 kg/kW
Gas mode: 6,990 kJ/kWh
More
The MAN L+V48/60CR injection system uses the latest MAN Energy Solutions common rail technology, allowing for flexible setting of injection timing, duration, and pressure for each cylinder.
500 – 514 rpm
7,200 –19,200 kW
MAN L35/44DF propulsion
The MAN L35/44DF offers high output, dual fuel flexibility, and Tier II and Tier III compliance. It is ideal for mechanical propulsion, electric propulsion as well as auxiliary GenSet applications
720 – 750 rpm
3,060 – 5,300 kW
By using MAN's common rail system, high-efficiency turbochargers, variable valve timing and state-of-the-art control systems, the MAN L+V 32/44CR is a synthesis of the most advanced large-engine technologies available.
720 – 750 rpm
3,600 – 12,000 kW
MAN L+V32/40 propulsion
Efficient, clean, and compact: The "32/40 Workhorse" is in service 24 hours a day. With a power output range of 3,000 to 9,000 kW, it is ideal for small and medium sized propulsion applications.
720 – 750 rpm
3,000 – 9,000 kW
Efficient, clean, compact, and yet powerful, the MAN 28/33D STC represents the synthesis of world-class engineering and state-of-the-art technology for your marine propulsion and power needs. Especially popular in fast ferry and naval applications.
1,000 – 1,032 rpm
5,460 – 10,000 kW
MAN L27/38 Mk2 propulsion
The MAN L27/38 engine is the ideal power source in the 2,100 — 3,690 kW output range for small to medium-sized tankers, cargo vessels, ferries, passenger, RO-RO vessels, coasters, large fishing vessels, tugs, workboats, and supply vessels.
750 – 900 rpm
2,100 – 3,690 kW
MAN L21/31 propulsion
The MAN L21/31 engine is the ideal power source in the 1,290 – 1,935 kW output range for small to medium sized tankers, cargo vessels, ferries, RO-RO vessels, fishing vessels, tugs, workboats, and supply vessels.
1,000 rpm
1,290 – 1,935 kW
Packing the latest state-of-the-art technology into a minimum volume, the MAN 175D is characterized by clear-cut design. It is innovatively designed to be the most efficient engine for every application – from heavy duty to light duty
1,800 - 2,000 rpm
1,740 – 4,400 kW
S.E.M.T. Pielstick PC2.6B propulsion
The proven Pielstick PC2.6B design delivers high power density, low emission levels, and reduced running costs in various diesel-electric propulsion configurations.
600 rpm
9,000 – 13,500 kW
S.E.M.T. Pielstick PA6B STC propulsion
The Pielstick PA6 B STC is a compact, lightweight, and durable engine with performance characteristics attractive for military and civil applications.
1,050 – 1,084 rpm
4,860 – 8,910 kW
MAN four-stroke propulsion engine programme
Efficient, compact, and powerful: Propulsion engines for your needs
A characteristic feature of MAN marine engines is their powerful acceleration coupled with an extremely low fuel consumption. Their advantages are to be found above all in their outstanding power efficiency and compactness. The engines are delivered ready for installation and are designed for optimum performance in the various conditions of deployment and operation. All engines comply with the internationally applicable exhaust gas regulations.
Service solutions for optimum efficiency
MAN PrimeServ offers advanced modernization solutions to optimize your existing equipment. Furthermore, MAN's modernization and retrofit solutions are tailor-made to customers' specific applications and machinery.
Go to MAN PrimeServ
Up t0
Output per cylinder: MAN 51/60DF – the dual fuel engine with the highest power output
A minimum of
Time between overhauls for the L27/38
Only
Best power-to-weight ratio in its class 5.2 kg/kW: MAN 28/33D STC – the engine with the best power-to-weight ratio in its class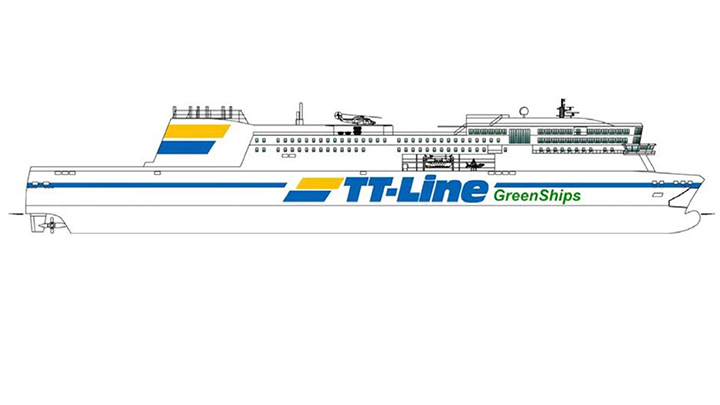 Customer:
TT-Line Germany
Application:
1+1 RoPax Ferry (passenger/vehicle)
Location:
Jingling Shipyard, China
Completion:
2022
Fuel:
Dual fuel (LNG & MGO)
MAN's work scope:
Engines, gearbox, CPP: 2 x 8L51/60DF, 2 x 6L51/60DF, 2 x twin-in/single-out gearbox, MAN ES Alpha twin screw CPP

Electrical system: AKA incl. advanced HyProp ECO system, 2 x shaft alternator, 3 x electric motor for bow thruster, 2 x frequency converter, 1 x bow thruster starter unit, 3 x transformer, 2 x UPS

Fuel gas supply system: MAN ES Cryo incl. 2 x 500m3 vacuum-insulated tank
Looking for a low-fuel solution for your business? Want to take your project to the next level?
We are there for you. Whatever your particular challenge is, contact us. Our global network of experienced engineers is available to work out the best solutions to support your business.
Talk to our experts
Controllable Pitch Propeller Upgrade & Nozzle

Four- stroke marine systems

Hybrid marine propulsion systems

MAN EcoLoad advisory tool