Transforming onshore applications

MAN Cryo is your go-to provider of comprehensive cryogenic solutions for power plant and industrial applications. We engineer efficient and economical cryogenic solutions for liquefaction, regasification storage, bunkering/loading, and hydrogen production. MAN Cryo provides all the associated services, such as design, quality assurance, project management, and commissioning.
cryogenic temperature for LH2
Customise our cryogenic solutions for your needs
Power plants
We specialize in delivering modular and scalable solutions that cater to a wide range of output requirements, spanning from 10 MW to 200 MW. MAN gas-powered, four-stroke engines are now H2-ready and can be operated in stationary mode with a hydrogen content of up to 25% by volume in a gas / fuel mix. This means that, in combination with our modular skid-mounted supply and storage solutions, we can provide gas supply and storage solutions for any type of consumer. Our services include engineering, project management, and commissioning.

Onshore hydrogen applications
Our LH2 offering includes hydrogen generation from renewable sources with electrolyzers from H-TEC SYSTEMS, compressors for high-pressure storage, liquefaction systems, cryogenic storage, LH2 pump solutions for transfer and supply, and LH2 ISO container solutions.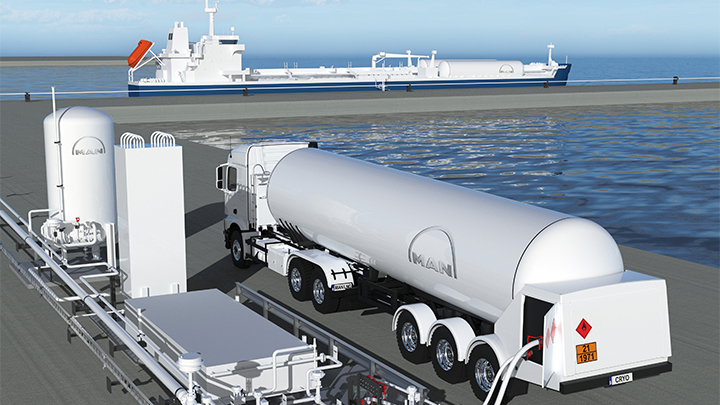 Onshore liquefied gas applications
We offer systems for liquefied gases such as liquefied natural gas (LNG), liquefied hydrogen (LH2), liquefied oxygen (LOX) and liquefied nitrogen (LIN). The systems includes solutions for liquefaction, storage bunkering/loading and regasification and supply of gas to consumers.

Cryogenic solutions at a glance

Learn how you can stay cool under pressure!
With our commitment to quality, reliability, and innovation, we strive to deliver cryogenic solutions that drive efficiency, productivity, and sustainability in the power plant and industrial sectors. Explore our range of offerings and experience the expertise and excellence that sets MAN Cryo apart.

Contact our experts