Frozen -

the world of

cryogenic fuels
Meet the Swedish cryogenic-fuel experts that are having fun greenifying shipping
MAN Cryo's history is full of notable industry milestones, such as the world's first LNG-bunkering vessel. And now the manufacturer of cryogenic equipment is on a new mission: finding ways to decarbonise shipping with its "nothing's impossible" mentality.
By Pádraig Kelleher
It's a miserable day and 500 shades of grey in Gothenburg but, sipping coffee in Roger Göthberg's office, both he and Louise Andersson agree that the city is lovely in the summer. Even if it's freezing outside, it's considerably colder inside the cryogenic tanks that are MAN Cryo's hallmark – to be precise, minus 162˚ Celsius.

Andersson is a chemical engineer that began her working life in the hydrocarbon industry before jumping into project management. Moving to MAN Cryo, she initially worked with fuel-gas systems and led its engineering department before becoming Head of MAN Cryo in 2017. MAN Cryo's main product is the cryogenic tanks that hold liquefied natural gas (LNG), which is natural gas that has been cooled down to liquid form for ease of transport and safety. Aboard vessels, LNG fuel is stored in specialised, double-wall, insulated tanks at atmospheric pressure.

Andersson says: "Everyone gives LNG serious consideration as a marine fuel today. LNG is a booming sector with a lot of competition where everyone sees opportunity, but many don't have the same competence and know-how that we do." As a recent example, she quotes MAN Cryo's winning of the contract to supply two vacuum tanks – including tank-connection spaces – with LNG fuel pumps and bunker stations to two ice-breaking RoRo newbuildings for Wallenius SOL, the Swedish shipping line. A technical challenge that MAN Cryo relished, Andersson says: "These RoRos will operate in a sensitive, sulphur-emission-control area in harsh winter conditions where a reliable LNG fuel-gas supply system is of the utmost importance."
Apart from offices, MAN Cryo's Swedish base reigns over a number of workshops. The largest – inherited from a defunct, local shipyard – is where the company produces its own cryogenic tanks. There, whilst Andersson is distracted by the latest in a number of phone calls – "Doing another deal!", laughs Göthberg – Managing Director of MAN Energy Solutions, Sweden – who continues: "We customise some cryogenic tanks and fuel-gas systems for the European market here. However, the majority of our tank manufacturing is now outsourced – a decision we took recently to grow our business and move toward becoming a global supplier."

Originally a mechanical engineer that got into sales, Göthberg has a history with oil majors, small-scale LNG distribution and industrial LNG facility production.
MAN Cryo uses a former shipyard hall for cryogenic-tank production. Pictured here, Louise Andersson stands in front of two stainless-steel, vertical, 145m3 LNG tanks.
Celsius temperature of Liquefied Natural Gas (LNG)
LNG terminal projects are in development worldwide
tonnes of LNG have been traded in 2018
MAN Cryo is known for its cutting-edge development and can count the first LNG-bunkering vessel in the world and the first LNG terminals in Sweden among its many achievements. Andersson says: "The spirit in the company is known to be pioneering. We have a skilled engineering team that thinks nothing's impossible – this is our mentality. As we make the shift to selling entire cryogenic solutions, our manufacturing background means we can work with our suppliers to find smarter solutions."
In the 'blue' hall MAN Cryo builds cryogenic equipment in all different shapes and sizes.
A strategy of decarbonisation
MAN Cryo's latest chapter began in 2015 when MAN Energy Solutions took over the fuel-gas specialist and fully integrated it into its business. At that time, Dr. Uwe Lauber, CEO of MAN Energy Solutions, said: "Natural gas is rapidly gaining importance as a fuel for marine applications, which is why this acquisition is of major strategic relevance for us. Many of our customers are looking for a one-stop solution for comprehensive engine and fuel-gas supply systems. Thanks to Cryo's expertise, we can now offer this."
MAN Cryo's 'blue' hall houses a test facility for fuel-gas systems before shipment to customers. Tests are run with inert liquid nitrogen from the tank shown here for safety. Pictured here: Louise Andersson (left) and Roger Göthberg (right)
The most promising fuel solution right now is, of course, LNG. The concept originally evolved in Scandinavia to feed land-based industry as no gas-grid existed locally. Subsequently, this LNG infrastructure began to grow as it was used to bunker vessels with, for example, tank-trailers from shore. Gradually, more and more shipowners saw this as an opportunity to comply with the first sulphur regulations mandated for northern Europe. Subsequently, LNG has become a vital part of the Maritime Energy Transition, MAN Energy Solutions' call to action to reduce emissions and establish green fuels within global shipping. Though more widespread in Europe, LNG-bunkering opportunities essentially exist globally today with the Global Energy Monitor reporting in June 2019 that the natural gas industry is currently investing $1.3 trillion in over 200 LNG terminal projects in its efforts to establish a wider and more integrated, global LNG system.
LNG's cost-effectiveness is also a significant factor in its rise to prominence as a commercial fuel as natural-gas reserves are at least three times that of oil. With the marine business still preoccupied by SOx and NOx in terms of emissions, LNG is a compliant fuel that reduces CO2 emissions by 20% and thus becomes an important bridge on the road to decarbonisation.
The Greta Thunberg effect
Moving through MAN Cryo's 'blue' hall where the company builds vaporizers, tank-connection spaces and two-stroke PVUs (pump vaporizer units), Göthberg says: "There's no limitation on CO2 yet but I'm sure it will come. I think the 'Greta' effect will actually force the shipping industry into thinking more green, not just going over to LNG but thinking about the next step to greenify it as well." As an example, he cites the 'Wes Amelie', the container ship recently retrofitted by MAN Energy Solutions to dual-fuel operation that will soon sail a voyage with a part-bunker of synthetic natural gas (SNG).
Energy management is a complex game but, essentially, any energy source that can be liquefied is potentially something that Cryo can exploit to deliver a solution. "This is very much in line with our strategy as part of MAN Energy Solutions – to bring greener solutions," comments Andersson. "Producing SNG is one way, or biogas in LNG form, and to make a blend that reduces CO2 emissions. If produced with electricity from wind and solar – power to gas – we can greenify the LNG business in a meaningful way."
I think the 'Greta' effect will actually force the shipping industry into thinking more green.
Future fuels – the talk of the town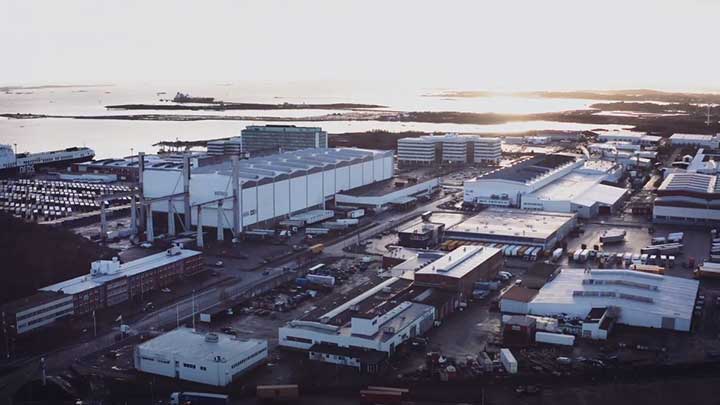 Arial shot of MAN Cyro in Gothenburg, Sweden
While MAN Cryo currently concentrates on LNG solutions, it actively watches the market and is not so much looking at technical refinements as much as fuel trends. Apart from LNG, liquid hydrogen is currently the talk of the town for fuel-gas system applications, which MAN Cryo has already developed a system for, although the infrastructure for bunkering vessels needs to be developed. Ammonia is also a candidate for the future but only time will reveal its potential. Louise Andersson says: "The important thing is to keep on challenging the solution. Whatever happens, we are prepared."

In parting, Roger Göthberg says: "We are geared towards greenifying the business by smart solutions to create a cleaner world. It's a lot of fun!"
About the author
Pádraig Kelleher is a maritime writer based in Copenhagen.