Putting

all the bits

together
A powerhouse made of questions - the MAN 45/60CR
Questions, questions and more questions. Questions that changed opinions, provoked discussions and caused decisions. Questions that fired imagination, passion, ambition and determination. That's how we came to create an outstanding engine – the MAN 45/60CR.
The project started in 2013 and was led by two of MAN Energy Solutions business units: Marine Engines & Systems and Power Plants, with the help of the MAN PrimeServ and Turbocharger units. The biggest question here was whether one four-stroke engine could fulfill all the goals of both the marine and power generation markets.
Big questions
Can we combine the newest technologies in one product?

Can we make the most efficient and powerful engine in its class?

Can it deliver 600 RPM instead of 514 RPM?

Can we save up to 30% space?

Creating answers, step by step

Concept phase: "What does the customer want?"

A lot of people put their time into this engine, contributing expertise from many fields: 400 marine and power engineers from Germany, India and France, designers, planners, builders and testers. But also the customers – helping with their experience and their wishes. We held a series of workshops and interviews with major customers to exchange ideas.
Detailing phase: "Can we make it shorter?"
At the "innovation workshops" customers helped develop solutions and evaluate potential for improvement.
They came with questions, suggestions and requests: "Can you revise the media connections?", "Engine length is critical", "Can you increase RPM without increasing vibrations?" Priorities were set: Energy consumption, followed by costs, compactness, ease of engine room planning and installation.
Improving the components
New cylinder head covering

Weight-optimized crank drive

Improved design of camshaft and valve train for less friction

Less piping

Optimized lube oil system design for reduced consumption

Nozzle cooling water system attached on engine

Gas variant should be available in the future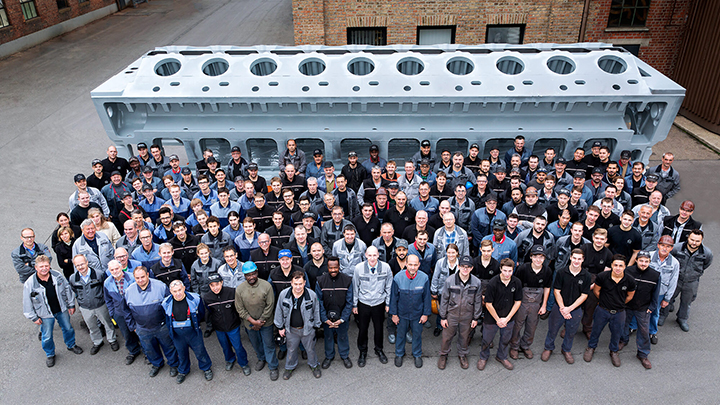 Production phase: "Will all the parts fit?"

By July 2015, prototype production was running at the Augsburg works, where they had to increase crane capacity for crankcase processing. Almost all self-made parts were manufactured in Augsburg and shipped from there to Saint-Nazaire (France), for production of the power generation engine. Saint-Nazaire got a new scalable line assembly using a new system for all complex pipelines to ensure quality. Pre-simulation in the design loops helped prevent wastage in the foundry .The engine and turbocharger module were a perfect fit at the first attempt. Never had a prototype completed its initial assembly as well as the MAN 45/60CR.
Testing phase: "Does it work?"

150 completely new components that needed to be tested individually before they were integrated into the prototype test run (for example, the Common Rail system was tested for at least 1000 hours on the test rig).
Never before had we used so many digital simulation methods in development. On top of that, a completely new test bed was built in St. Nazaire. The first start of the full engine took place on 15 March 2016. There followed over seven months of testing. All combustion chamber components (pistons, cylinders, connecting rods, cylinder heads, valves, etc.) were measured with regard to temperature load and strength, confirming the computational simulation.
Conclusion phase: Answers

In June 2017 we presented the engine to the public – with best fuel efficiency in class, highest power output in class, and lowest Specific Fuel Oil Consumption (SFOC) in class. To find answers like this, you have to ask a lot of questions.
The integration of the 10L engine is easily possible with view to IMO 2020 damage stability rules… a very interesting engine when looking at future ship developments.
That's great, that's how we always wanted to have it!
The motor length fits. And, by the way, cool engine!
The Augsburg team after completing the first assembly of engine and turbocharger.