Efficiency
Lower operating costs and higher life cycle profitability

The MAN 45/60CR engine enables owners and operators to comply with ever more stringent emissions regulations and optimize their operating expenses at the same time. Our new engine provides unrivaled levels of low fuel consumption, driving down operating costs. By increasing standardization and using modular sub components, the new MAN 45/60CR engine also allows faster installation and easier maintenance.
Highest power output in its class
1,300 kw per cylinder
Lowest SFOC in its class
Just 166 g/kWh
Matching a wide range of load profiles
Common Rail Injection System with ECOMAP 2.0
Extended use of exhaust gas after-treatment (EGA) systems
High permissible backpressure
Improved use of heat
Optimized high-temperature cooling and lubrication circuits
Environmental friendliness
Designed for a cleaner world
The MAN 45/60CR complies with the most demanding NOX regulations in combination with the compact MAN SCR (Selective Catalytic Reduction) exhaust gas aftertreatment system. Together with the innovative MAN ECOMAP function, it offers a whole new dimension in efficiency levels under different vessel operating profiles. The MAN 45/60CR will be a major contribution to achieving the stringent Energy Efficiency Design Indices (EEDI) of the future.
MAN has developed a whole range of systems that work together to safeguard the environment while maintaining the ship's efficiency. Technologies such as MAN's Common Rail Injection System improve a ship's fuel economy, so it needs less fuel, produces fewer emissions and complies with EEDI guidelines.
Applications
Versatility at work

The new MAN 45/60CR engine is suitable for use in a wide range of marine applications. Its primary focus is reliable power generation, performance flexibility and superior efficiency in either diesel-electric or diesel-mechanical configurations. High-quality key components, modularized sub-designs and easy-to-install interfaces, make the engine a multitalented performer in many fields of application.
On a cruise vessel, you benefit from low emissions, low noise and high efficiency, thanks to its unrivaled flexibility.
On a ferry, it provides best in class efficiency with its two-stage turbocharger and meets tier three regulations with Selective Catalytic Reduction.
For dredgers, if offers a broad performance map with high dynamic operation capability and load acceptance.
Technology of the future
Welcome to the future
The shipping industry faces constant demands to increase efficiency and comply with ever more stringent emissions regulations. The industry also recognizes growing public awareness of its environmental role. The cutting-edge technology of the MAN 45/60CR enables higher performance with lower fuel consumption, lower emissions, and lower operating costs.
New SaCoS 5000 engine management system
Decentralized and easily expandable architecture
New ECOMAP 2.0 fuel injection maps
Matching a wide range of load profiles for unrivaled economic flexibility
Field-proven Common Rail Injection System
Outstanding low fuel consumption and very quick load acceptance
Two-stage turbocharging
Wide torque curve

Output
| | | |
| --- | --- | --- |
| Speed | 600 | rpm |
| mep | 27.2 | bar |
| MAN 6L45/60CR | 7,800 | kW |
| MAN 7L45/60CR | 9,100 | kW |
| MAN 8L45/60CR | 10,400 | kW |
| MAN 9L45/60CR | 11,700 | kW |
| MAN 10L45/60CR | 13,000 | kW |
| MAN 12V45/60CR | 15,600 | kW |
| MAN 14V45/60CR | 18,200 | kW |
Dimensions
| Cyl. no. and config. | 12V | 14V | |
| --- | --- | --- | --- |
| L | 11,320 | 12,300 | mm |
| L1 | 10,520 | 11,500 | mm |
| W | 4,970 | 4,970 | mm |
| H | 5,240 | 5,240 | mm |
| Dry Mass | 204 | 230 | t |
All weights and dimensions are for guidance only and apply to engines without flywheel. Minimum centerline distance for multi engine installation: V-type engine: 5,050 mm (project-specific requirements can lead to higher values). More information available on request.
Dimensions*
| Cyl. no. and config. | 6L | 7L | 8L | 9L | 10L | |
| --- | --- | --- | --- | --- | --- | --- |
| L | 8,400 | 9,200 | 10,000 | 11,200 | 12,200 | mm |
| L1 | 6,450 | 7,250 | 8,050 | 8,950 | 9,950 | mm |
| W | 3,500 | 3,500 | 3,500 | 3,500 | 4,000 | mm |
| H | 5,100 | 5,100 | 5,100 | 5,100 | 5,300 | mm |
| Dry mass | 130 | 145 | 165 | 165 | 195 | mm |
* Estimated values; turbocharger configuration on coupling side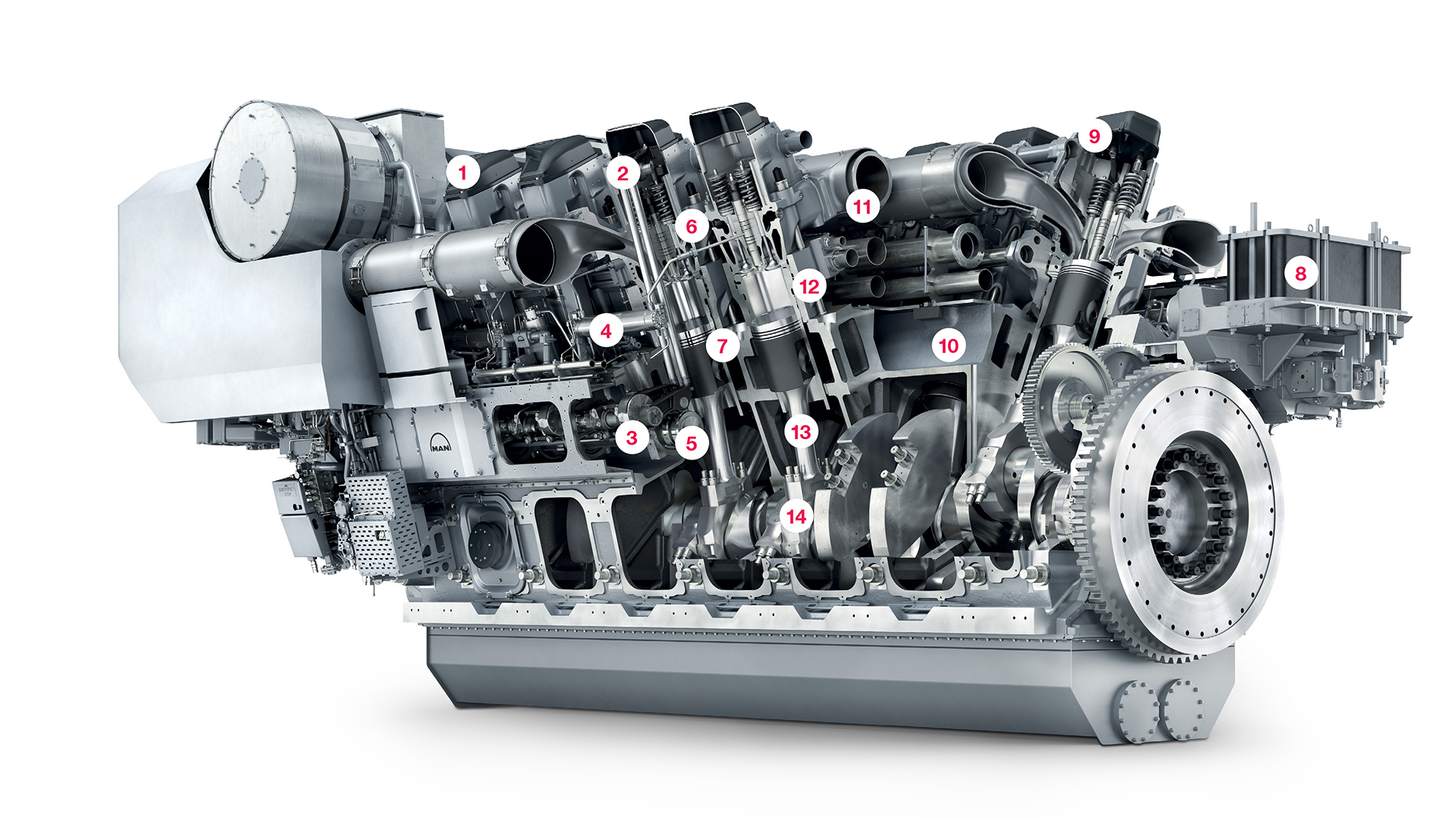 Noise-reducing cylinder head covers
Advanced valve lever kinematics
Variable valve timing
Proven MAN Common Rail Injection System
Low-friction camshaft
Improved cylinder head cooling
Weight-optimized piston
Integrated lube oil cooler and filter module (option)
Rocker arm casing with integrated HT return flow
Main lube oil supply integrated in crank case
Double-walled exhaust gas pipe with integrated insulation
Waterjacket with both integrated HT inlet and starting air pipe
Lightweight and robust connecting rod
Low-friction crankshaft