Meeting changing energy demands with the power of air
Compressed air energy storage (CAES) uses geological reservoirs to store large amounts of energy for long periods of time – a very economical, effective solution for large-scale applications.
CAES – saving power for future use
Access huge amounts of energy when you need it
Compressed air energy storage (CAES) is a proven large-scale solution for storing vast amounts of electricity in power grids.
As fluctuating renewables become increasingly prevalent, power systems will face the situation where more electricity is produced than it is needed to cover the demand. The solution: Effective energy storage systems store this excess energy, allowing operators to draw on it as needed.
CAES solutions make it possible to store energy on a very large scale while ensuring that the grid is stable – for a secure power supply. The technology uses electricity to compress and store ambient air under pressure in subterranean reservoirs, such as caverns and salt mines. When power is required, compressed air is drawn through the expander to power a generator. It is also possible to incorporate thermal storage or peaker plants to improve round-trip efficiency.
Our state-of-the-art compressors and expanders for CAES help promote clean, green power
MAN Energy Solutions develops industry-leading equipment and components for CAES solutions based on proven technology developed over decades.
We are a leading provider of CAES turbomachinery, with decades of experience in developing compressors and expanders. Our expertise speaks for itself: We provided the compressors for the world's first large-scale CAES facility in Huntorf, Germany in 1978 – and it is still going strong today. CAES solutions allow for very high power outputs and capacities, as well as multiple energy services, including spinning reserve and black start.

MAN Energy Solutions offers a wide range of efficient air compressors, including combined axial and radial compressors for large units that are ideal for large-scale applications. Our air expander power recovery units are based on over 100 years of in-house experience, designed for power generation applications up to 180 MW. To strike the perfect balance between costs and efficiency, we tailor our axial and radial gear expander solutions with single- and multistage designs.

How you benefit:
Low capital investment
MAN turbomachinery customized to meet specific needs
Best efficiency
High availability and reliability
World's first CAES plant still going strong in Huntorf
MAN Energy Solutions provided the compressors for a CAES facility in Huntorf, Germany. It was the first commercial CAES facility in the world – and is still operating successfully today.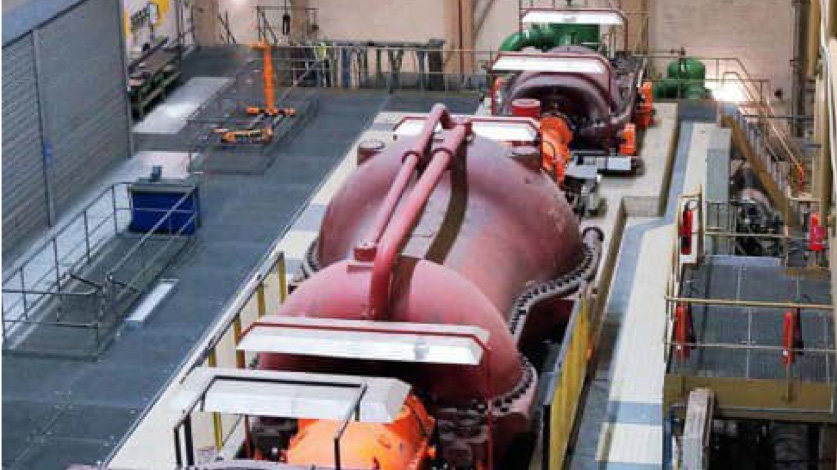 | | |
| --- | --- |
| Customer | E.N. Kraftwerke |
| Customer type | Power plant |
| Application | CAES plant |
| Location of installation | Huntorf, Germany |
| Commercial operation | 1978 |
| MAN's scope of work | Axial and radial compressor train |
Contact our MAN Energy & Storage support team
Power your CAES plant with highly efficient turbomachinery from MAN
MAN Energy Solutions provides support every step of the way – from consulting to development and implementation. Start generating greener power today.
Talk to our experts