Efficiency

wins in

marine propulsion
Making efficiency win in marine propulsion
Efficiency. Everybody wants it. For their machines, for their processes, for their teams, and even for themselves. But what does efficiency really mean? Is it about thermodynamics or economics or the environment? As recent winners of a prize for efficiency, we have been given the subject a lot of thought.
The Marine propulsion awards
The 2018 Marine Propulsion awards were held at the Sulphur Cap 2020 Conference in Amsterdam on April 17th. The conference and awards were organized by Riviera Maritime Media, publisher of Marine Propulsion magazine. More than 1,600 people voted from companies located across Europe, the Middle East, North America and Asia. Their rankings were combined with the judges' views to determine the final winners.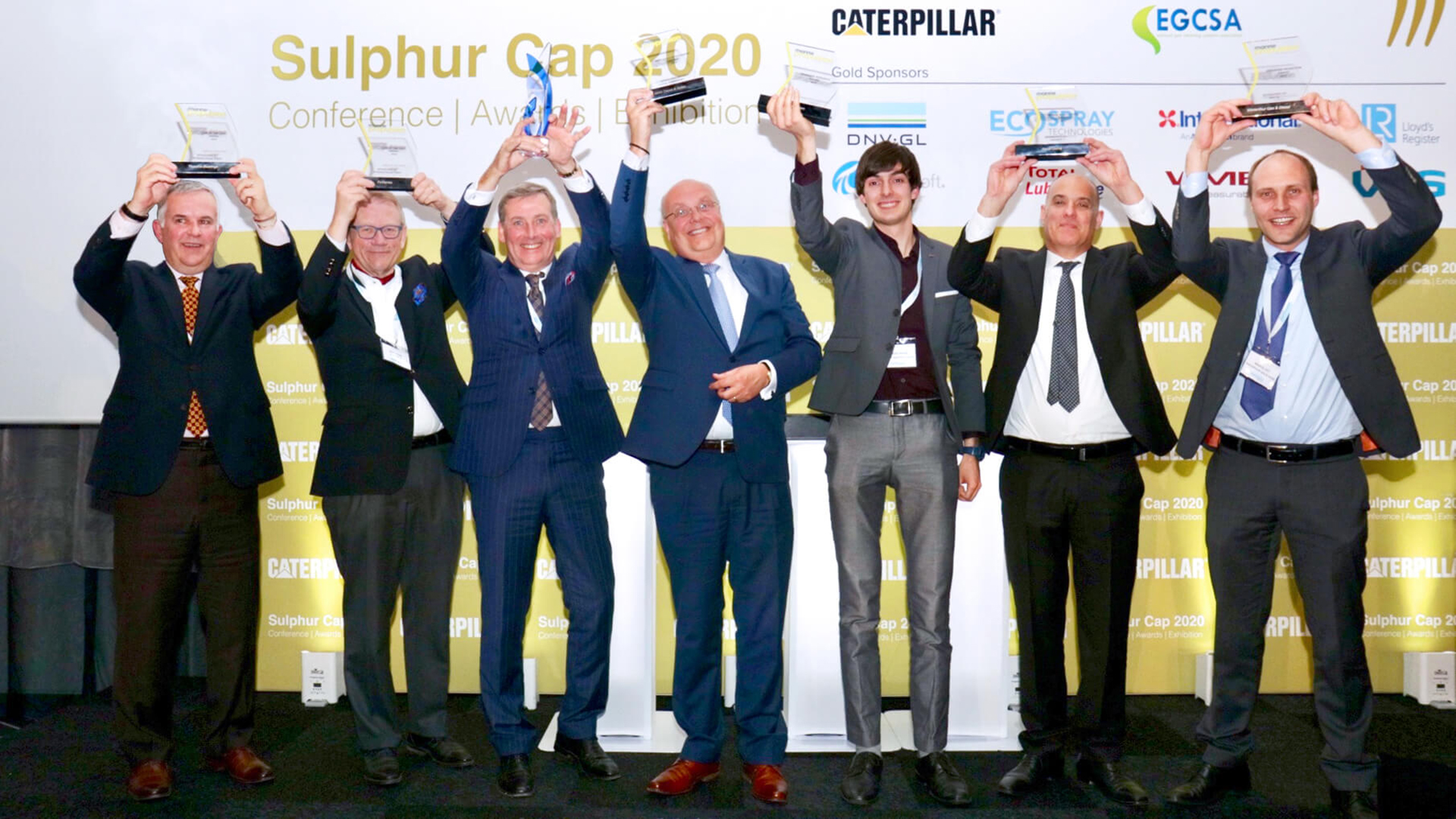 The "Efficiency Improvement Award" was awarded to MAN Energy Solutions for its MAN 45/60CR four-stroke engine on 17 April 2018.
How to make your engine more efficient - a quick guide
1. Think of your customers needs
What are the main challenges of modern shipping? Looking at this question from the point of view of owners and operators, you soon see that optimizing operating expenses is essential. That, of course, means lowering fuel consumption. But not just because of cost considerations – new engines have to increase efficiency while complying with stringent emissions regulations.
2. Use your best technologies
There are many ways to make an engine more efficient. Fuel injection maps can be used to match a wide range of load profiles for higher economic flexibility. The injection system can be optimized for lower consumption. Two-stage turbocharging can create a wider torque curve leading to gains in efficiency of 1.0% to 1.5%. Exhaust gas after-treatment systems also affect consumption. And engine heat can be used better in cooling and lubrication. Finally, an advanced engine management system is necessary to make it all work together.
3. Make things easier for shipbuilders and users
Increasing standardization and using modular sub components allows faster engine installation and easier maintenance. There are more ways to make things better, for example, by weight-optimizing the crank drive, improving the camshaft and valve train design for less friction and re-designing the lube oil system so it consumes less oil.
4. Keep costs down
Saving on fuel is fine, but only if you keep up power output. This is what allows customers to save on both investment and operational costs. Calculations based on a representative load profile of a cruise vessel show that a ship operating with MAN 45/60CR engines can enjoy a fuel oil cost benefit of 5% to 12% in comparison with a vessel powered by an equivalent engine from other manufacturers. For a cruise vessel of around 120,000–150,000 gross tonnage with 60–65 MW of installed power and an assumed fuel price of €500/ton, the fuel oil cost benefit translates into annual savings of €0.9 million to €2.4 million.
5. Things really efficient engines do:
Improve efficiency by 7% (compared to MAN 45/60CR's predecessor MAN 48/60)
Deliver best-in-class fuel efficiency of more than 50%
Achieve the lowest Specific Fuel Oil Consumption (SFOC) in its class: Just 166 g/kWh
Provide the highest power output in its class: 1,300 kW (1770 HP) per cylinder
Fulfil World Bank 2007/2008 NOx requirements and IMO Tier III with MAN SCR aftertreatment
Conclusion: game-changing efficiency
In terms of efficiency, the MAN 4560CR is a game changer: with higher output, lower fuel consumption, lower emissions, lower operating costs, faster installation and easier maintenance. This extraordinary efficiency creates new opportunities for the marine industry. And for us, it creates a certainty: you can win with efficiency.
Highest power output in its class: 1,300 kW (1770 HP) per cylinder
Improved efficiency by 7% (compared to MAN 45/60CR's predecessor MAN 48/60)
Lowest Specific Fuel Oil Consumption (SFOC) in its class: Just 166 g/kWh
We firmly believe that the 45/60's high power-density and excellent efficiency has set a new standard in the industry.